Hi there, thanks for checking out Aussie Green Thumb, I appreciate it. If you want more, including a free buyers guide for my top gardening tools, click here for all my best advice, exclusive content and FREE bonuses!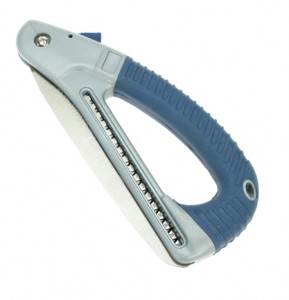 Another must have tool for any gardener is a pruning saw. Sometimes plant or tree limbs are even too thick for loppers and you need to break out the saw. Now in theory any old saw would do, they all cut 'wood', but gardening pruning saws are designed to work best on living plants.
When living plants are cut, they secrete a sticky residue, or 'sap' and this can cause difficulty for an ordinary saw.
Pruning saws are designed with this in mind, made with either non-stick or low-stick teeth that will keep on cutting even when covered by tree sap.
Pruning saws also generally come with a curved handle.
This makes getting in and around tree limbs easier which is important because unless you have shaped your tree it is often the most difficult to get to or most awkward limbs that you are trying to remove.
Another big bonus of a proper pruning saw over an ordinary saw is size and portability.
Pruning saws often fold (though not always) and this is beneficial for 3 reasons;
1. Takes up less space;
2. Is safer, you won't risk cutting yourself reaching into your gardening tools.
3. Helps better protect the teeth, helping the tool to last longer.
As such the first tip for anyone looking to buy a pruning saw is to spend that little bit extra and get one that folds up. Another very important aspect to shopping for pruning saws is buying one which has a replaceable blade.
Though pruning saw blades can generally be sharpened, eventually a new blade will be needed. If the blade cannot be replaced then you will have to spend up big again on a new tool. However if the blade is replaceable this will significantly cut down the long term cost of maintaining your pruning saw.
A relatively recent improvement to the pruning saw range are blades called 'tri-cut' or something similar. Basically these are sharpened on 3 edges, like a triangle, and reportedly cut twice as fast.
I myself have never owned a pruning saw with this kind of blade yet but every review I have read has strongly recommended them, so I'll recommend you look for a pruning saw with a tri-cut blade also.
I am probably beginning to sound like a broken record but try and stay away from pruning saws with lots of plastic pieces. Plastic makes the tool cheaper but it is also rare for tools with plastic to go the distance and last many years.
In fact in many cases, manufacturers make tools out of plastic BECAUSE they won't last for years, forcing you to once again buy another tool in a couple of years. It makes sense for manufacturers, they need the business, but it is a shame that there are fewer and fewer top quality tools.
5 Different Pruning Saw To Choose From: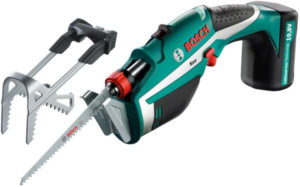 Easily cuts branches up to 80 mm with one push of a button.

Patented clamping jaw gives users an unparalleled amount of control for accurate pruning.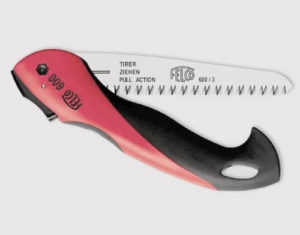 Can cut branches up to 4 inches in diameter.

The Felco 600 folding pull stroke pruning saw's conical blade and skillfully designed teeth geometry removes clogging and sap build-up for high-performance cutting of large diameters.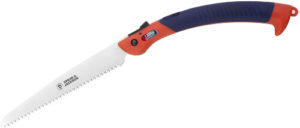 Built with Sk5 carbon steel blade for long lasting sharpness.
Cost
Pruning saw range in cost from about $20 right up to $200. To get a folding pruning saw with a tri-cut blade you are probably looking around the $50 mark.
Spending $60-70 will get you a top notch tool, spending $30-40 will get you a serviceable tool. Spending less than $30 and you are probably getting a tool that will last a season or two before you have to spend another $20-$30 on a new tool.
Aussie Green Thumb garden tool buying guides:
Buying guide: Shears
Buying Guide: Secateurs
Buying Guide: garden rake
Buying Guide: loppers
Buying Guide: garden trowel
Buying Guide: spades and shovels
Buying Guide: pruning saw
Buying guide: garden fork
So You Want A Better Garden?
All my best articles have been collected into what I'm calling the ultimate gardening toolkit – make sure you take a look, there's a heap of great gardening advice available. I've also published a series of gardening ebooks that you might be interested in. Good luck!