Hi there, thanks for checking out Aussie Green Thumb, I appreciate it. If you want more, including a free buyers guide for my top gardening tools, click here for all my best advice, exclusive content and FREE bonuses!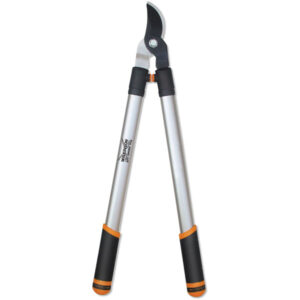 This is the third installment in my buying garden tools series and for this article I will review what to look for when buying garden loppers.
Garden loppers, hedge shears and secateurs are the three most important tools a gardener can own for pruning plants.
Secateurs and Hedge Shears are good for trimming or pruning the skinny limbs of plants but there are times when pruning involves the removal of limbs thicker than your thumb.
If you trim these with secateurs or hedge shears you risk damaging the tool and it is for this very reason that loppers are a must-own tool for you.
Like with secateurs there are a few kinds of loppers but once again the most prevelant are called bypass loppers, named after the style of the blade used. However there is another decision to be made with loppers and that is whether to buy loppers that have a ratchet action or not.
Ratchet loppers basically cut the limb in stages, allowing the best leverage possible with minimal effort.
If you plan on regularly cutting decent width limbs or if you don't have a lot of strength in your hands then I strongly recommend looking for loppers with a ratchet action.
This is more costly but will save you a lot of time and effort.
As far as I am concerned the two most important things to take into account when buying loppers after you have decided which type you want is weight and handle length.
What you want will depend entirely on your circumstances. If you plan to trim plants with limbs that are quite high up then you will need to buy loppers either with longer natural handles OR with the ability to be lengthened.
Also, in this scenario a lot of work will be taking place above your head so you will want to have light handles (probably made of a slightly strengthened aluminium) so you don't tire quite so quickly.
Make sure you check the blade is sharp. If there is no way of testing the tools on a branch in store then find a piece of paper and test it.
This isn't a fool proof method given the fact paper is much easier to cut than plant limbs but if the blades don't cut paper quickly, efficiently and straight then you can't expect that they will do a much better job on plant limbs.
Garden loppers normally range in price from $15 to $150, I wouldn't touch a pair cheaper than $30 and would probably look at the tools in the $50-$60 cost range.
Here is a list of Loppers you can choose from:

With over 65 years of unsurpassed quality, FELCO is know around the world for providing top-quality pruningand cutting products. FELCO 200 Straight Cutting Head Loppers are built with Aluminum Fiber Tubes for durability and longer use.
Considering the fatigue in longer usage, this lopper comes with a shock absorption system to reduce impact in your every cut.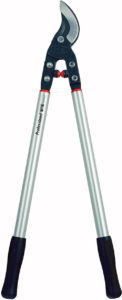 Bahco P19-80-F Heavy Duty Lopper is a professional heavy-duty lopper for cutting very thick, mature trees. With it's Aluminum tube handles, you'll feel it's reliable, strong but comfortable use.
Cutting thicker branches won't be a problem due to its double radii blade made especially for a smooth finish powerful cuts.

Bahco P116-SL-70 Bypass Loppers's blade is made with two edge radii for powerful yet smooth and easy cuts.
Along with it's robust forged counter blade, it uses soft rubber buffers between the handles to avoid fatigue when being used.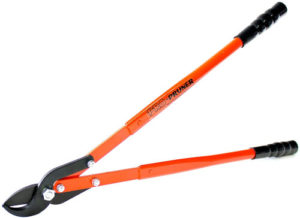 P40 Pro-Pruner Professional double action orchard and garden lopper is professional made based on advice and feedback from orchard, kiwifruit, vineyard and forestry.
With it's hardened steel blades, cutting feels strong but lightweight. Lastly, with it's non-sliding double action cutting system, you get more cut with less effort.

Fiskars Extendable Handle Lopper uses fully hardened non-stick coated steel blades letting you cut with less effort.
It has durable steel handles and shock-absorbing bumper for less vibration and more comfort. The best part? It has a lifetime warranty!
If you make the right decision with lopper purchase the tool quite possibly will last you for life as good garden loppers that are not made of metals likely to rust really do tend to handle the life of a garden tool well.
Aussie Green Thumb garden tool buying guides:
Buying guide: Shears
Buying Guide: Secateurs
Buying Guide: garden rake
Buying Guide: loppers
Buying Guide: garden trowel
Buying Guide: spades and shovels
Buying Guide: pruning saw
Buying guide: garden fork
So You Want A Better Garden?
All my best articles have been collected into what I'm calling the ultimate gardening toolkit – make sure you take a look, there's a heap of great gardening advice available. I've also published a series of gardening ebooks that you might be interested in. Good luck!