Cyclone Loppers and Shears Review
Here at Aussie Green Thumb, we recently got our hands on the new 'Sculpt' range of prunning tools from Cyclone and ran them through their paces to see how they would hold up. We've also got a set to giveaway; keep reading to find out how to enter in less than 10 seconds!
This new Sculpt range from cyclone  is made up of 1 large compound lopper, 2 ratchet gear loppers (1 with telescopic handles) and 2 pairs of pruning shears (again 1 with telescopic handles). Read on as Aussie Green Thumb gets into the nitty gritty of this new range and puts Cyclone 'Sculpt' to the test!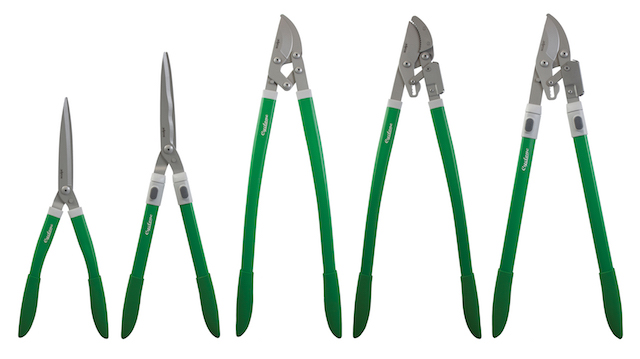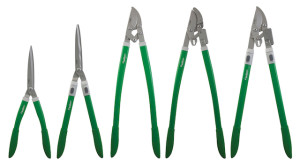 Out of the box first impressions.
Visually, these tools are pretty simple. Nothing fancy but definitely not ugly. I like the simplicity of them; block green handle and silver metal blades. The lack of flashy colour, labels, and purely aesthetic features makes me feel like I'm not going to ruin them by using them, and I like this in my gardening tools.
In particular, the two pairs of bypass loppers grabbed my attention first. They look pretty mean and bulky, and definitely look like they can handle some hand work.
The tools themselves have a nice gentle curve to the 'Tri-Oval' handles, that will give the user that little bit of extra torque to get through some tough cutting. The handles are also nice and solid, but feel like they have a little bit of give in them, and are a rough triangle shape that fits snugly into the hand.
For me, it makes each tool feel stronger, and I can definitely trust them more than if they had a rigid straight shafted handle.
The Nitty gritty
Hedge Shears
As the name suggests, these two tools are going to be used mainly for cutting things like hedges or shrubs back into a nice neat shape. You could also use them to tidy up fine branches on bushy trees or on climbers like star jasmine. With the addition of the telescopic handles to one of the pairs, you're looking at a good bit of reach to get those higher jobs.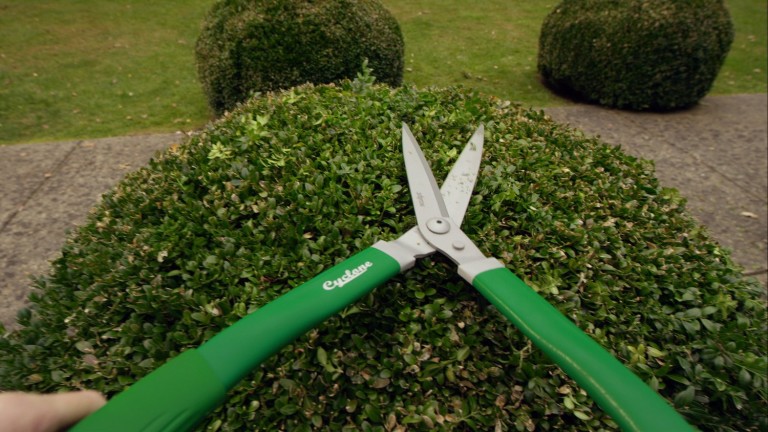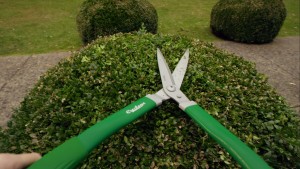 I really like the standard shear in this range. It's simple, solid, and really chews through foliage. The blades open quite wide to get good bang for your buck with each cut, and they close completely as well, meaning that you don't miss any little pieces.
The straight blades are nice and even which makes cleaning and sharpening in between jobs super easy, and the pivot point is nice and stable with the handles, which means the blades don't bounce around during cutting. I would have really liked to have seen a little shock absorber at the top of the handles on this one, just to take a bit of the force during closing, but it's a minor miss.
The telescopic shears I like, but not as much. The telescopic handles slide smoothly, and have little notches for variable length, which is good if you don't need the full extension ( you'd be surprised how many tools don't have this!), and can give you an extra half a metre or so in your cutting radius which is pretty impressive.
They're a little big larger than the standard pair, but offer the same opening and closing size of the smaller pair which means you can grab a lot of foliage with each cut, but for some reason they've been given wavy blades over straight.
The idea behind wavy blades is so you can get some thicker or slippery branches, but in my experience it comes with a loss of detail for the finer jobs, which I found with this pair. It also makes sharpening the blades a bit more tricky.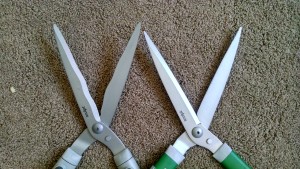 Verdict?
Two pretty solid tools. Both pairs cut hedge, shrub and tree foliage well, and are relatively easy on the user. Cyclone have kept this one simple, and have kicked a goal with the short handled pair. There's no bells and whistles, which means less to break. Both these hand tools should handle most jobs around the home and give you a really long lifetime of use.
Compound Bypass Lopper
This lopper is the stock standard lopper in the Cyclone Sculpt range. Again, the simplicity of this tool is its greatest strength. It nice large beak and long handles mean this is the tool you'll be reaching for to prune any larger tree branches that you can't tackle with secatuers.
The large beak I mentioned kept surprising me each time I used it. The compound lever allows you to open up much wider than a normal pivot point lopper, and those extra curvey handles help with getting more strength into the cut.
The blade itself is pretty chunky, which means it shouldn't break easily and its shape allows for easy access with a sharpening stone. The one downside of this bypass lopper is that the fixed section of the head is smooth, rather than grooved.
Not a huge deal, but it can sometimes mean that when you're throwing all your weight into the cut, some of that energy can be lost by the head slipping and spinning around the branch.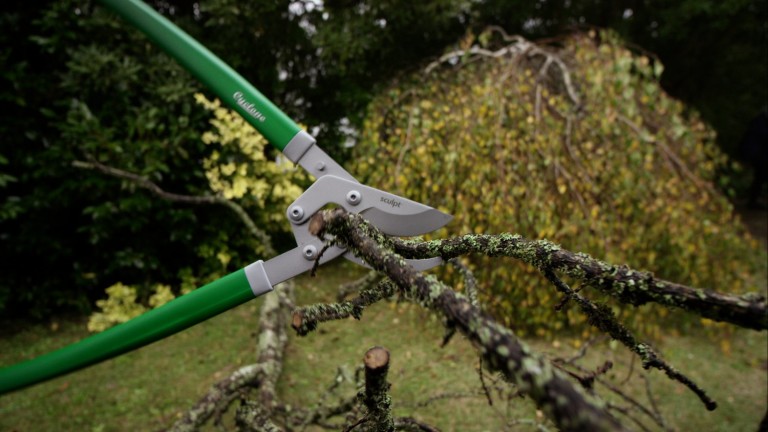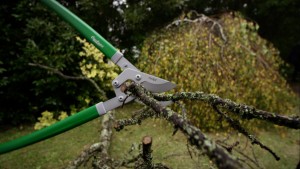 Verdict?
A good pair of loppers. Look, this one isn't anything special, and it isn't going to set the world on fire, but it will do most jobs you need it to do. The bypass lever system lets you open up and get around some big branches (Cyclone says around 45mm), and the bypass itself will make it a little bit easier than a lopper with a simple pivot point. As with the shears, this won't go breaking anytime soon, and is definitely built simple and tough.
Ratchet Gear loppers
This one is my pick of the range. A step up from the simple bypass lopper, this lopper with the ratchet gear is for the real heavy duty pruning work. You should be grabbing this lopper for big branches that have fallen, or for pruning trees with hard timber.
Design wise, it is pretty much the same as the bypass lopper, but with a much chunkier head. The ratchet gears are always a winner in my books, but Cyclone have gone further with this one in particular.
The easiest way to explain it is like gears on a bike; 1 gear (or pivot point) limits the power you can apply; what you give is what you get. Being able to move through 4 gears however means it can be easier to apply more power with the same effort.
If the first attempt with this lopper doesn't make it through, the ratchet gear will move the pivot point accordingly to allow for extra force to be applied. It makes heavy duty cutting so much easier.
Combine this with the wide, meaty head equipped with a ridged grip section (lacking on the bypass), and I'm confident you'll struggle to find anything this can't cut.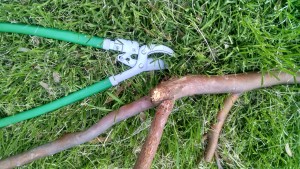 As soon as I took this one from the box, I wanted to see how hard it would go. Luckily I had a huge tree branch come down in my backyard…it cut through it like butter. I am seriously impressed with this piece of equipment.
The other ratchet gear lopper is essentially identical, however has the telescopic handles. This doubles its reach, and give you some extra length is you need a bit more power behind your cuts. Strangely enough though, the ridged grip head is absent from this one, and I can't understand why.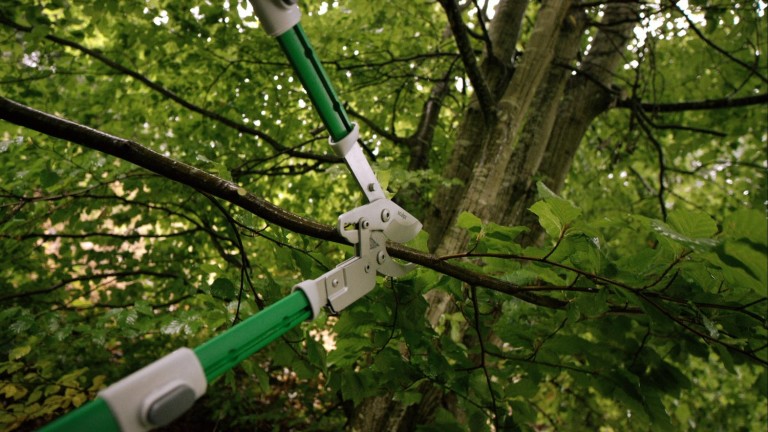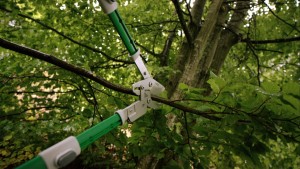 Verdict?
Top tools. Seriously, the best in the range. I would be confident in saying that if you had a pair of these laying around your garden shed, you would never need anything else to cut tree branches around your backyard (obviously excluding a Stihl chainsaw that freshly used a chainsaw sharpener). They're tough and uncomplicated, and took a beating by me and still work like they're fresh out of the packet.
For more options on garden loppers, be sure to check out our Fiskars lopper reviews. We also reviewed a mix of garden loppers which we believe are the best on the Australian market.
Conclusion
The Cyclone Sculpt range of hedge shears and tree loppers offers a really good mix of tools suitable to different tasks in your garden. They're simple and effective, and they haven't wasted resources in adding fancy colours and graphics.
All the tools feel great in the hand, and they offer no resistance when you're doing the cutting, meaning that all of the energy you're exerting to make your cuts isn't wasted.
Each tool comes with a lifetime guarantee, and as far as I can tell, this will hold up. They just feel stronger than other products on the market. There's no flimsy bits, and nothing is overly rigid or brittle.
An unavoidable part of having a tool that will last as long as these though, is that you will need to sharpen them at some point to keep them cutting neatly. I can't tell you how long it'll be before you need to do it, but luckily the nice even blades on most of the tools will make it easier when you do need to.