One question that many people ask is what are the best gardening tools to have and how do you know which ones to buy? This is particularly important if you have just decided to get into gardening.
Having the right tools can make a very big difference when it comes to doing the work and if the work is easier, the chances are you'll stick to your goals of growing a better garden!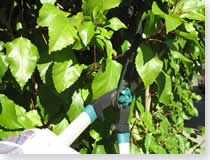 The problem is if you are new to gardening you probably don't KNOW what to buy. Even some people who have been gardening for years have been doing so using tools not designed for the job they are applying them to.
Over the next week or two while I'll be releasing a 3 part series called 'Buying gardening tools'.
During the series I will cover the BEST 9 tools that you could buy to maintain a garden.
I will outline each tool, what is important to know about each tool, its use, what to look for when buying, any different varieties of the tool that are available and what you can expect to pay for cheap, intermediate and expensive varieties.
As a sneak peak today I am going to overview a tool called  'Hedge shears' or sometimes called 'Hedge clippers', but see below links to other guides I have written.
Aussie Green Thumb garden tool buying guides:
The reason I have chosen the hedge clippers to overview first is because I myself made a rookie mistake when buying hedge shears the other day. I had a $20 gift voucher and RATHER than using it towards buying a good pair of shears, I settled for an inferior variety that didn't cost all of my voucher.
As I should have expected, they didn't even last their first use before the shaft bent placing the teeth out of whack. If you want to avoid this then keep reading about what YOU should look for when buying hedge shears.
As the name suggests the main function of hedge shears is in 'shearing' or trimming hedges.
Most shrubs needs trimming at some point so as to stop them from absolutely taking over ever other plant in your garden (if they are healthy) and the best cheaper tool for the job is hedge shears.
Another tool you can use is an electric hedge trimmer, which I will review as one of the 9 tools in this series, but if your shrub only needs a quick snip OR you can't afford an electric trimmer then a good pair of hedge shears is your best bet.
When it comes to buying hedge shears it really is true that you get what you paid for, as I was sadly reminded.
As a general rule (and it is VERY general) when I go to a shop I wouldn't even CONSIDER the cheapest two options.
This is just a PERSONAL rule (which I violated with bad results) that usually saves me from anguish.
I am yet to buy either the cheapest or second cheapest hedge shear and NOT have them become pretty much useless in short time.
What you need to look for in a pair of hedge shears is
Is the blade sharp? It is hard to test this without feeling the blad (VERY CAREFULLY) but you can get a rough idea of its sharpness by gently touching the blade.It SHOULD NOT feel smooth, if it feels smooth then it is already slightly flat and won't get better with use!
Are the blades curved? Curved blades help stop branches slipping down the blade as you cut, giving you better results when cutting.
Are the handles strong? I myself prefer wooden handles simply because I know they are strong however if you want a lighter tool, try and find a hedge trimmer with handles made of carbon fibres or something similar.I try and stay away from aluminium handles because they bend more easily when force is applied.
Finally shears are not designed to cut thick branches, they are designed to trim the the foliage of hedge plants.
Check out 5 of the Hedge Shears I'd go for next time I need to buy one:
With Okatsune Precision Hedge Shears, you'd feel like a Japanese Swordsman in your garden. Why?
Because this hedge shears are made of Izumo Steel blades, the same blade material used in Japanese Swords. These short garden shears are used by professional gardeners throughout Japan.
The handles are strong but light and less have less vibration thanks to its Japanese Oak handles.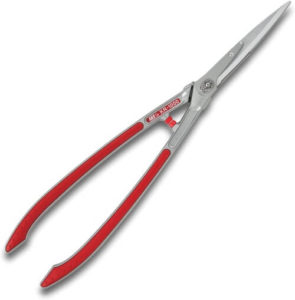 ARS HS-KR1000 Professional Hedge Shears have long lasting sharpness and a pivot bolt for blade adjustments. Created with superior steel and blade treatment, you get an unsurpassed cutting performance.
In addition to it's perfect shape and balance, professionals tend to choose this hedge shears because to it's superior durability.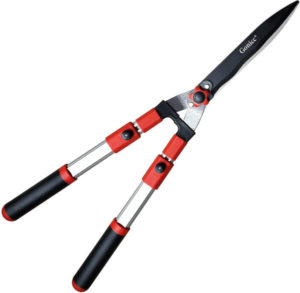 Gonicc Professional Adjustable Hedge Shears' quality blade is made of high carbon SK-5 steel making is ultra strong, sharper and last longer than your ordinary blade.
The shock-absorbing design will prevent most of shock during the trimming and reduce fatigue of arms and shoulders.
Not only can you adjust it's handles, you can also adjust the flower-bolt at the bottom of the blade to change the pressure between it's two blades, making it easier to prune different types of plants.
What is best about this it? It has a lifetime warranty, making it one of the best in the market.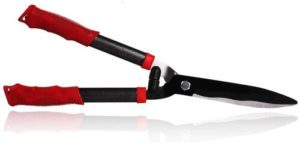 Oara Garden Hedge Shears is made out of high quality 65 MN carbon steel making it ideal for shaping and manicuring boxwood, hedges, shrubs and decorative topiary plants.
While using this, you will feel less vibrations and fatigue on your arms and shoulders with the help of it's shock-absorbing bumpers.
Lastly, it is coated with Teflon that prevents rusts, corrosion, and corrosion. It also reduces clinging of dirt which helps maintaining it easy and convenient.

Corona HS3244 ComfortGEL Hedge Shear is built with intergrated shock-guard bumpers reducing strain and fatigue to your arms and shoulders.
This hedge shear comes with a 3/80-inch notch giving you an enhanced cutting performance.
It has ergonomically shaped grips for maximum comfort, fit and control. And, with it's specially coated non-stick blades that helps with maintaining it's sharpness, you will surely have a blade that will last long.
A general rule again is don't try and cut branches thicker than your thumb, for that you'll need a tool called a 'lopper', another of the 9 tools I'll review.
A 'cheap' pair of sturdy hedge shears will set you back at LEAST $20, if you're paying less you are probably buying the cheapest or next to cheapest tool. An expensive pair of shears will be in excess of $100.
A good range is probably the $40-$50 cost range. Very rarely will you buy a tool for that price that doesn't back up it's cost for general use. If you are running a gardening business you may well like to consider buying a more expensive model designed for high use.
Final Tip – To best care for your hedge shears, wipe them off with a rag of warm, soapy water after use. This helps to clean off sap from the blades and remove gunk that is likely to cause your tool to rust.
Last thing you want to do is have a tool go rusty in the shed!
So You Want A Better Garden?
All my best articles have been collected into what I'm calling the ultimate gardening toolkit – make sure you take a look, there's a heap of great gardening advice available. I've also published a series of gardening ebooks that you might be interested in. Good luck!