This article was first released on March 21st, 2010. I thought I might bring it back to the front of the cue as autumn is quite a common time where people update their sheds, mostly because when the rain falls, they discover their old sheds have some serious leaks!
So, if you are looking for a new shed perhaps consider the following!
Last month i reviewed the Stihl range of Brush Cutters. This month I am going to review a pretty important garden product that can significantly improve your garden and that is the humble garden shed.
You might be wondering how a garden shed improves your gardening? Simply this, a good garden requires good tools. A good, solid, water-proof garden shed will keep your gardening tools better for longer, enabling you to better care for and maintain your garden.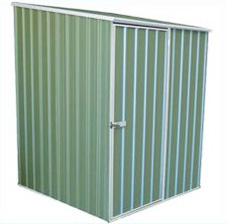 Garden Sheds Review
Shed 1 – Masterstore Garden Shed 1.5m x 1.5m
This shed is the smallest in the range. It is a very simple shed that is very easy to put together and erect. The Masterstore Garden Shed is perfect for gardener with only a few tools or who are not particularly worried about being able to lay out your tools in a particular order.
The shed is available in pale Eucalypt colour (pictured) or classic cream. This particular shed only has 1 door but it is only a very basic shed. One big upside to this shed is that because it is small, you have many options to place it.
Plenty of people buy a small garden shed like this to position under an existing carport or patio area. A good, basic choice.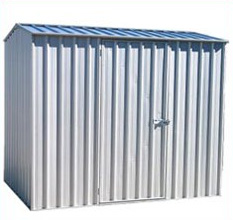 Shed 2 – Tidymaster Garden Shed 2.3m X 2.3m
The next size up in the Bunnings range and it really is a relatively significant increase. An upside to buying a bigger shed like this is that is is much easier to fit a worthwhile bench inside the shed and also allows for a more organised shed to be set up, with board for tools to be hung from.
A garden bench helps to increase space use because equipment like lawnmowers and Brush Cutters can be placed underneath it and the bench itself can be used for planning or storing other tools.
This shed is available in plain zinc colour or the pale Eucalypt colour. It is made from slightly stronger materials than the Masterstore, has a solid hinged door and a gable roof. A fantastic choice if you want a slightly larger garden shed.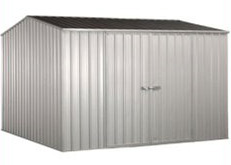 Shed 3 – Tidymaster Garden Shed 3m x 3m
This is the biggest garden shed that Bunnings sells. The biggest bonus to this garden shed, other than the size, is that it comes with 2 doors which means moving equipment in and out is a breeze.
Simple equipment like wheelbarrows and lawnmowers will never be an issue again! Obviously the larger size afford more space for more tools to be stored and also means that this size is the best shed to double as a work space for various gardening tasks like putting together wooden supports or building garden bed frames etc.
Another upside to the size is if you put in shelving units and the like, they don't have to go right up against the walls (because you have extra space) which reduces the effect of condensation and any possible leaks in the shed, which will help preserve your tools for longer.
This shed is available in the plain zinc colour or classic cream. My garden shed of choice from the Bunnings range!
Hopefully you can find a shed that fits your gardening lifestyle from the Bunnings range!
So You Want A Better Garden?
All my best articles have been collected into what I'm calling the ultimate gardening toolkit – make sure you take a look, there's a heap of great gardening advice available.
I've also published a series of gardening ebooks that you might be interested in. Good luck!