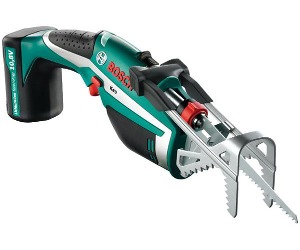 I was recently afforded the opportunity by Bosch to trial their new KEO Cordless Pruning Saw and overall I was very impressed.
Though it is mostly designed for use pruning plants, there is a veritable list of tasks that this little machine could help you with.
First though, let's start with how it performs with it designed task, pruning.
How the Bosch Cordless Pruning Saw Handles Pruning.
It sounds silly, but it would be pretty silly if a pruning saw couldn't prune, but I have had some bad experiences. However from the moment I took this tool out of its box I new this would be different.
After I got it all charged up, I took it out and starting to use it on a myriad of pruning jobs from Aussie natives to well established roses.
I used it to aggressively trim back overgrown shrubs and then to delicately trim and shape others.
The Bosch KEO Cordless Pruning Saw handled each of these tasks with ease.
In short – Pro's and Con's when pruning
Pro's
 The detachable A-grip really makes a difference. When trimming branches that fit, the teeth hold the branch in place and allow a smooth, clean cut through.
Larger branches can br trimmed by removing the detachable A-grip
Having no chords means this pruning saw can go just about anywhere. It's shape also lends it to being able to get into difficult nooks and crannies.
Even though the tool applies quite a lot of force, the vibrations don't really impact on your hand. Spending an hour pruning with this tool doesn't leave  your hand feeling overworked.
Con's
There are very, very few cons but a couple of things I felt worth noting;
When the battery runs out, you can't really use this tool while plugged in to recharge. Though it still works, it isn't able to use the power recharging to operate at full steam.You have to wait for it to recharge before getting back to work. This would only impact very heavy users. If you charge between each use you'll have no problem. The battery life was good.
I appreciate the safety mechanism requiring you to have 2 hands in use to start the tool, but I found it awkward to use. It is pivotal to provide tools which force the user to be safe in my opinion, so full marks there, but it just didn't feel natural.For example, the Ryobi Hedge Trimmer I reviewed requires 2 hands to use, but the placement of the safety feels more natural. The problem with a pruner is you don't naturally use 2 hands, however I stil feel this is an area Bosch could improve the tool.
Other uses for the Bosch KEO Cordles Pruning Saw

I mentioned in the introduction that there are a myriad of applications for the Keo. This is because it effectively is a powered saw. Though it is designed to be a pruning saw primarily, anything small that needs a powered saw to cut is feasible.  I read another review over at Gardening Tips and Idea's which outlined the following possibilities;
Replacing the standard wood blade with a metal blade allows you to cut through metal sheet, tubing and other metal products. With another quick change the plaster blade allows you to slice through Gyprock™, plasterboard and even thin wall sheeting.
You can see the possibilities are endless.
One final application for the Bosch KEO Cordless Pruning Saw
My last, and favourite application for this tool is using it to trim up fallen palm branches. If you, like me, are unfortunate enough to have a palm tree in your back yard, you'll know just how annoying the constant falling branches are.
Or perhaps you actually like your palm tree, either way you still have to deal with the fallen branches. Before it would be quite a task to cut them up. I'd either have to use a manual saw, use a hedge trimmer or even sometimes resort to a chainsaw to cut up the branches into smaller pieces.
However I found the Bosch KEO chewed straight through the stem of the branches, allowing me to trim them into much smaller pieces for disposal with ease.
The Last Word
I want to make this clear. I have been very positive of the Bosch KEO Cordless Pruning Saw not because I had to. I was provided with this tool free of charge and under no compulsion what so ever to review it positively. However, I have reviewed it positively because I absolutely love it.
I would thoroughly recommend that you consider adding this tool to your arsenal.
Aussie Green Thumb Score – 9/10
So You Want A Better Garden?
All my best articles have been collected into what I'm calling the ultimate gardening toolkit – make sure you take a look, there's a heap of great gardening advice available.
I've also published a series of gardening ebooks that you might be interested in. Good luck!