Last week I featured the Banksia ashbyi, this week I'll be featuring the Banksia baueri
Banksia Baueri Features
Genus: Banksia
Species: baueri
Common Name: Woolly Banksiabaueri and Possum banksia
Flower Colour: Orange
Foliage Colour: Green
Growth Habit: Shrub to 2m
Flowering: Winter to Spring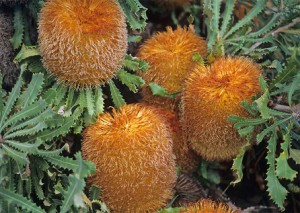 The Banksia baueri is native to the south west of Western Australia, mostly around the Albany area. It performs best in climates which have a dry summer, however there has been success growing it in more humid climates on the east coast.
Once again the most striking feature is the large flower. The Banksia baueri has a large orange flower which tends to turn a little grey as it gets older. The grey comes from the whispy fibres which protrude from the centre, which turn grey. Like all Banksia's, the baueri is very good for attracting honey eating birds.
This Banksia is another example of a great feature plant. It prefers a full sun to part shade position and generally requires a really well draining soil. Why not consider adding one to your garden?