Last week I featured the Banksia baueri, this week I am featuring the Banksia blechnifolia.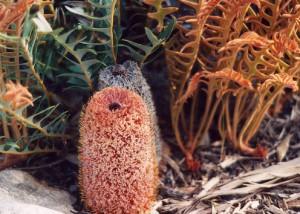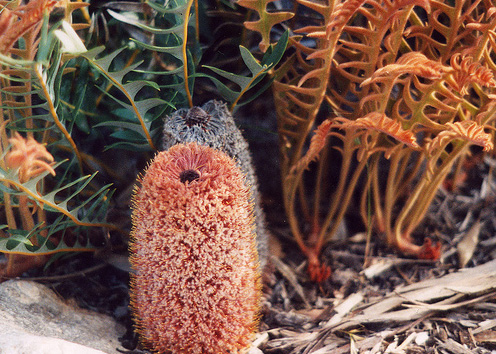 Genus: Banksia
Species: blechnifolia
Common Name: Southern blechnum banksia or Groundcover Banksia
Flower Colour: Orange
Foliage Colour: Mostly green, but sometimes orange and pink.
Growth Habit: Prostrate Shrub/Ground cover
Flowering: Mostly Spring
What a fascinating plant the Banksia blechnifolia appears to be. It is a very colourful plant. I have seen photo's of orange growth, pink growth and green growth. The flowers start out very wispy and grow into the more cone-like shape that is common amongst Banksia.
This particular variety grows as a prostrate shrub, which is basically a fancy way of saying it is a ground cover. It will grow along the ground with flowers usually occuring at ground level. I believe this makes the blechnifolia really interesting because it will provide the Banksia like flower that is so desirable but, as it grows at ground level, can be used around other feature plants. I would say a few blechnifolia planted around a Australian Grass Tree would be quite a sight indeed.
This variety is indigenous to Western Australia however has been successfully grown all around Australia. Will survive in positions with full sun to part shade and prefers a well draining soil. Though this variety doesn't require a lot of water, more water will help it grow faster and more profusely.