Kangaroo Paws, or plants of the genus Anigozanthos, are an absolute delight to grow in your garden. Their long flower stems burst into colour during Spring and Summer, and their strappy leaves fill in an area really well. But to get the absolute best from them they must be pruned, and we're here to help you learn how.
Hi there, thanks for checking out Aussie Green Thumb. If you want more, click here for all our best advice, exclusive content and FREE bonuses!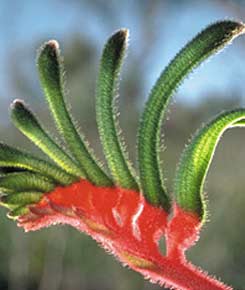 As part of our native plant of the month series, we featured 4 varieties of the Kangaroo Paw, click through to each of these to learn more about some common kangaroo paw varieties:
Red & Green Kangaroo Paw
Orange Gem Kangaroo Paw
Green Machine Kangaroo Paw
Yellow Gem Kangaroo Paw
Pruning when in flower
There are a few good times that you can prune Kangaroo paws and the first is during flowering. You really want to cut the flower stems right off as soon as the flowers are starting to look less appealing.
This pruning before the flowers have died entirely encourages the plant to produce new stems and flower again, giving you a second or sometimes if you are lucky even a third showing during a flowering season.
Clip the stems off right at the base of the plant at as close to a 45 degree angle as possible. This reduces the risk of disease and pests causing trouble.
Doing this for every flower stem will both increase the health of the plant and also give you great flowers to boast about.
Pruning at the end of the flowering season
When your Kangaroo Paw has finished flowering (usually mid to late summer or early autumn) it is a very good idea to give it a solid prune. The main tip for the post-flower pruning is to cut any growth with any 'browness' right out. Don't just cut the tip off, take the whole lot off right down to the base.
The good thing about Kangaroo Paws is that most of what is important for it's growth is under the ground, so this means you can get away with being a bit rough in the pruning. Leave any small green shoots and a few of the larger ones leaving at least 1/3 of the plant  to keep it kicking over the winter period.
Pruning Kangaroo Paws is not terribly difficult because you really would struggle to be too harsh in pruning them. Good luck and I hope this helps!
So You Want A Better Garden?
All our best articles have been collected into our  ultimate gardening toolkit – make sure you take a look, there's a heap of great gardening advice available.
We also publish a series of gardening ebooks that you might be interested in. Good luck!