Acacia Sclerophylla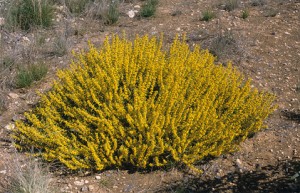 Genus: Acacia
Species: sclerophylla
Common Names: Hard Leaf Wattle
Flower Colour: Yellow
Foliage Colour: Green
Growth Habit: Shrub to 2m
Flowering: Spring
Acacia sclerophylla is not a plant that I am very familiar with however this picture alone makes me want to find a place to grow it! I absolutely love Australian natives that are covered in flowers during their flowering season and that is definitely a trait of the sclerophylla.
This variety is apparently one of the most hardy Acacia varieties, supporting most soil types. It reportedly thrives in both full sun positions or positions that experience part shade and is tolerant of frosts to around about -7 degrees celcius. This makes for one very sustainable and hardy plant!
Though it is not a ground cover, due to its height, it does spread quite wide, sometimes to as much as 3m which makes it a good 'fill' variety, to be used to cover big spaces that you don't want to see. It sends out lots of stems as it grows, making it quite a bushy variety. This coupled with its flower nature leads it to be one of the most decorative Acacia varieties that you can get.