Last week I featured the Adenanthos obovatus, this week I'll be featuring the Adenanthos cuneatus.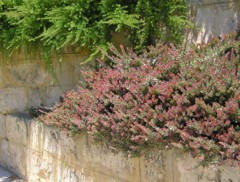 Genus: Adenanthos
Species: cuneatus
Common Name: Coral Drift
Flower Colour: Purple
Foliage Colour: Grey
Growth Habit: Shrub to 1m
Flowering: Spring, Summer, Autumn
The cuneatus variety of Adenanthos is native to the South West of Western Australia. It has a fantastic growth habit, growing to about 1.5m wide. The cuneatus responds very well to pruning at the end of the flowering season and makes a good hedge plant or space filler. When covered in flower it is absolutely stunning. Another bird attracting Australian Native Plant.
Thanks to Lullitz Nursery for some of this information.