Last week I featured the Grevillea nudiflora, here is this weeks variety!
Grevillea Preissii Features
Genus: Grevillea
Species: preissii
Common Name: Sea Spray
Flower Colour: Red
Foliage Colour: Grey
Growth Habit: Shrub to 1m
Flowering: Autumn to Spring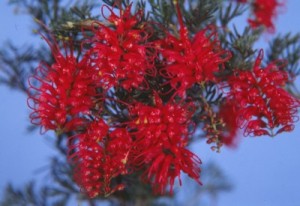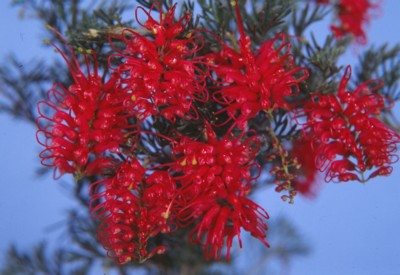 The first thing that captured my attention with this variety of Grevillea is the raspberry looking flowers. Most variety of Grevillea have very open looking flowers but this kind is more tightly bunched and often clustered together.
The flowers are deep red in colour and appear from Autumn through to Spring.
The Grevillea preissii prefers sandy or limestone based soils and will cope best in full sun to part shade locations. This variety is slightly smaller than some of the more common types, growing to be between 0.5m and 1m high. It is very much a bird attracting variety, honey eaters absolutely love the nectar from this Grevillea.
The grey foliage helps it stand out when planted with the more common green leafed varieties. A fantastic plant to add to your garden.
Thanks to Lullfitz Nursery for much of this information.