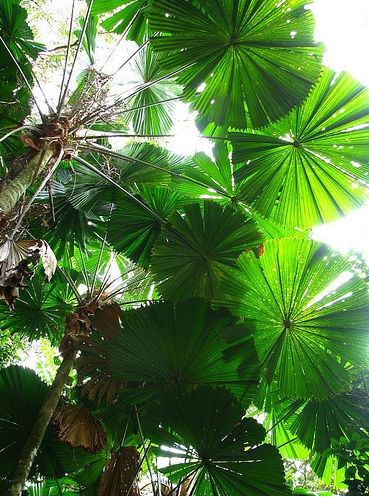 Article by Elle Meager – National Tropical Plants Nursery.
So often I tell people I run a tropical plant nursery. They tell me 'Oh no, I only grow Australian native plants!' There is no reason those two can't go together! There are some beautiful tropical plants available for your garden, which are native to Australia. Some are even suited to the cooler, temperate climates of the country. I would like to show you a couple of those.
One of my personal favourites is the Australian Fan Palm (Licuala ramsayi), native to North Queensland. A beautiful palm with huge circular fan leaves which grows to 15m tall. It is spectacular in fruit with masses of seed berries. The Alexander Palm and Bangalow Palm (Archontophoenix alexandrae and cunninghamiana) are best natives, and especially the Bangalow Palm is often seen growing in cooler climates.
The Native Frangipani (Hymenosporum flavum) is a stunner, and native to most of the East Coast, from Sydney to Cape York! Around 10m tall with a canopy covered in sweetly fragrant and yellowy cream flowers which age to a deep orange. Flowers are borne throughout spring & summer. A must-have, being tough, suited to our conditions, and can even handle moderate frost.
A great, and very tasty native, is the Yellow Mangosteen or Native Gardenia (Randia fitzalanii). It is native to North Queensland and bears sweet yellow fruits which can be eaten raw. It grows well as far south as Sydney! Another edible plant is our native Ginger, Alpinia caerulea. Especially the 'Red Back' version with striking maroon colour on the backs of the leaves. The flowers are white and very fragrant, and attract birds to your garden. The fruit and roots have a lemony ginger taste. Alpinia caerulea is native to Northern New South Wales and Southern Queensland.
The Gymea Lily is a favourite around Australia, and native also to New South Wales. It's not necessarily a tropical plant, but certainly looks great amongst tropical foliage. It has sword-like foliage over 1m long, and has a stunning flower which is born in a spike of up to 6m tall. The flower consists of multiple bright red little flower, and is a stunning sight. This plant can handle frost to around -7 and is very heat tolerant also.
One of my personal favourites is the Beach Screw Pine (Pandanus tectorius), which is not only native to the East Coast (NSW and up), but can also handle light frost once it's established. It has that true tropical 'holiday' feel to it, with prop roots and fruits which look like Pineapples. It would be great for seaside locations around Sydney & further north.
So, as you can see, there's no excuse! Spice up your native garden with some great native tropicals, give those birds something different to feed on, and be the envy of your neighbours!
————————————————————————————————————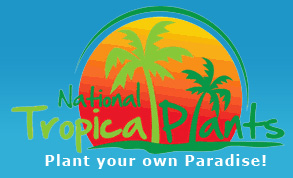 National Tropical Plants is Australia's online plant nursery for not only tropical plants, but also general garden plants. Anything goes, as long as it's pretty and grows well. We offer plants such as Bougainvillea, Hibiscus and Azalea which can be hard to find, and also have a huge range of palms and cycads.
We offer some great drought hardy plants, including succulents such as Yucca and Euphorbia, and true tropicals such as the Showy Medinilla and the Lipstick Palm. We have a range of frost hardy, and cold tolerant tropical plants to specifically cater for gardens down south. Our advice is free and freely given, our plants are of the highest quality for a very affordable price, and we ship our plants all around Australia*!
*Except Tasmania & Western Australia