Once you've begun to turn your brown thumb green, you'll want to spend as much time outside as possible admiring the fruits of your labor (literally). When the weather is warm, grilling out can be a great way to enjoy the outdoors.
But you can make your backyard even more enjoyable – and an ever better place to cook – by adding an outdoor kitchen space. Here are ten tips to get you started.
10 Tips for Planning Your Outdoor Kitchen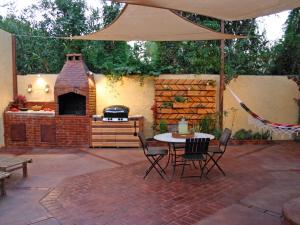 1. Create a budget before you get started
Kitchens in general can be expensive, so it's key to start with a budget to figure out what kind of kitchen you can afford to create. If your budget is on the lower end, you could opt for a fire pit, rather than a full-fledged oven, for example.
And if you have the time and the know-how, you can save big by renting the necessary equipment and DIY-ing much of the project (although when gas lines are involved it's best to leave that part to the professionals!).
2. It's all about location, location, location
One of the wonderful things about an outdoor kitchen is that you get to keep your indoor kitchen cleaner since you won't be trekking back and forth between the grill and your house.
That said, location is key when it comes to planning where your outdoor kitchen will be. For starters, consider where the sun rises and sets in relation to your new kitchen, as that lighting may impact when you're able to use the kitchen.
Also, if you're not installing a sink, you'll want to be near a water source.
3. Understand good kitchen design
The same design principles for an indoor kitchen should be applied to your outdoor one, although outdoor spaces do have additional challenges, such as the fact that there are no walls!
4. Ensure the traffic and design flow
Traffic patterns are essential to making your kitchen as functional as possible. Consider how the kitchen's layout will work with the rest of the property — whether you have a pool or outdoor seating — to make sure that it flows both in terms of traffic and in terms of the design elements of each space.
5. Consider the utilities needed
Any outdoor kitchen will require the use of some utilities. Where you have access to electricity and gas may impact where you install your lighting or set up your oven.
6. Build with durable materials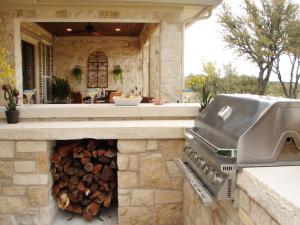 A key difference between an outdoor and indoor kitchen is that the outdoor one will be exposed to a whole array of elements. Even if it is technically covered by a roof or an umbrella, things like rain and snow can, and will, get in.
As such, use durable materials, and make sure things such as cabinets are waterproof to avoid as much rust and weathering as possible.
7. Make it easy to clean
The last thing you want to do in your beautiful outdoor space is to spend time cleaning. Make it easy to wipe down surfaces by building your kitchen with materials like stainless steel.
8. Choose different kinds of lighting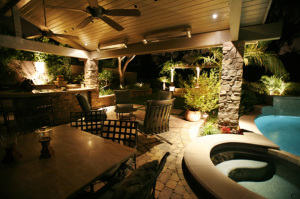 For the evening and night hours, brighten up your outdoor space and install different kinds of lighting depending on the area. Above the grill and sink, install task lighting, while over the seating a ceiling fan with lights would work well to brighten up the space.
No matter which type of lighting you pick, use more than one circuit, and make sure that it's suitable for damp conditions.
9. Pick flooring that won't get slippery
Notice a theme here? Consider that, since it's outdoors, everything is going to get wet at some point. For your flooring, avoid materials that get slippery easily, like tile, and opt instead for flooring that lasts longer, such as a stained wood deck.
10. Provide a seating area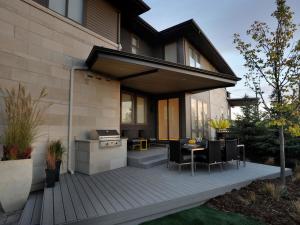 While the primary function of your outdoor kitchen will be to cook, it can also be a place for people to socialize. Consider putting in a bar or serving area in your kitchen, or even a more traditional dining table and chairs.
An outdoor kitchen is an extension of your home. It should be functional yet comfortable and can quickly become a focal point of your outdoor living. With these 10 tips, you'll be well on your way to designing a great outdoor kitchen.