There are gardens, and then there are gardens with water features. The simplest of water features can transform your outdoor space into a tranquil getaway — even if you just need to get away from the hullabaloo happening inside of your home. The sounds of babbling water or the light dancing off the surface work wonders when it comes to clearing your mind.
There's no "right answer" when it comes to water features, either; all you have to do is choose the water feature that best suits your style and your garden. Below are four examples of simple installments that will drastically change the look and, most importantly, the feel of your outdoor space.
1. Planter Water Feature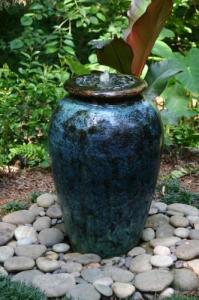 This small water feature will fit into gardens of all shapes and sizes because you can choose the planter that you'll turn into a fountain. Once you've found one that speaks to you — and one that is built to be outdoors year-round — cut a one-inch hole into the bottom so that you can pass a brass pipe through it. Then, dig a small basin or pool in which you'll place the fountain's pump. From here, place the planter back over the pump and fill the pot with water until it overflows. Then, switch on your pump. It'll send water spilling over the sides of the planter, back into the basin, and, thus, back into the urn.
2. Backyard Pond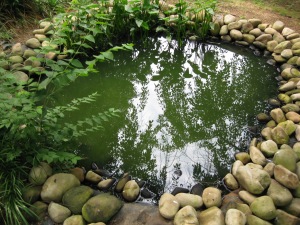 There's more to a backyard water feature than the soothing sound it makes. A pond can be just as serene in its stillness, and, like the above water feature, you can make it just as big or small as you want it. The steps are easy, too. After outlining the shape you envision for your pond, dig it out and lay out the liner. Once it's situated, place rocks around the edges to keep the liner in place. Fill it with water and voila. Your pond will be especially simple to maintain if you install a skimmer or water filter to keep the water clean.
3. Bamboo Basin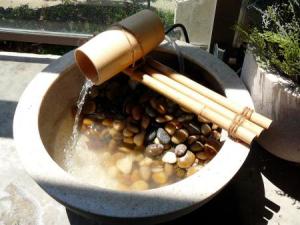 Even the smallest of terraces or patios will be no match for this bamboo basin — in fact, it's designed with city dwellers in mind. Find a bowl or pot that will fit on your space. Then, find a cup large enough to hide your pump and tubing. This cup will sit on top of two or three pieces of bamboo, which you can simply tie together with twine or string that you already have laying around. Line the bottom with rocks, add water, and turn it on. The traffic and street noise will be muted by the soothing sounds of trickling water.
4. Waterfall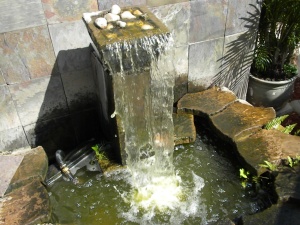 The waterfall is perhaps the ultimate water feature, whether it's built by Mother Nature or by you. If you have a weekend to dedicate to creating one of your own, it's worth the work. It combines all of the above steps: creating a basin, adding a pump for water, and stacking rocks to cover all of your hardware and liner edges. The result is a centerpiece for your backyard, and a place of relaxation for you. In other words, it's a win-win.
So you've spent countless hours planning, working, and sweating, and you finally have your garden looking the way you want it. You've got your plants, shrubs, flowers, landscaping rocks, all that good stuff. But maybe you're looking to add a little something extra that really makes your garden special. That's where a great water feature can come in. The simple addition of a fountain or birdbath to your garden can make a world of difference, greatly enhancing the atmosphere of the area. Here are some important things to keep in mind when considering adding a water feature to your garden.
In-Ground vs. Above
–          An in-ground fountain, one that uses a basin buried underground to keep water circulating, is easier to blend your water feature in with your greenery. Just bury the basin, install the water feature, cover the basin with mulch or stones, and you're good to go. These can cost a bit more, but you'll often find great designs you don't get with other models. Maintenance may be a bit harder as well due to the basin being buried, but the only time you'll really need to access it is to drain it for winter.
–          Above ground fountains give you ease of use and portability. Changing the water or performing maintenance on the pump becomes a simple task and you can always pick it up and move it (provided it's not too heavy) if you want to rearrange things. Of course, you'll need to make sure you have enough open ground in your garden for it to sit, which can be hard if it's already packed with plant life. You don't want to be crushing any plants or flowers with the base of your fountain!
Electric vs. Solar
–          Electric or solar power, which one to pick? Both have their good points, so it can be a tough choice. With electric power, you know your fountain will always be running. These fountains also tend to offer more variety in design, as they don't have to depend on a solar panel in them to supply power. However, solar fountains have really taken off in popularity lately as a great choice for a water feature. Since they use the sun's power, they're both environmentally friendly and won't increase your electricity costs. They also do away with cords, so you have more freedom in where you can place it, which is great if your garden's a good distance from any outlets. In the end, it just comes down to personal preference and what will work best in your outdoor space.
 Material
–          Material is the other big thing to consider. Something like resin or fiberglass is nice because it's lightweight, easy to move, and available in tons of finishes. However, it can crack in extreme cold, so it's best for warmer climates, such as the more temperate or tropical area's in Australia. As long as you don't experience regular snow in winter you should be fine.
Stone is always a popular option, as it has a look unmatched by any other material. Naturally, it's going to be quite heavy, so plan on keeping it in one spot once you have it set up. Another popular option that's great when you want to add a splash of colour to your garden is ceramic. Fountains made from ceramic have bright, bold colours and a glazed finish that gives them a glossy look, making them really stand out anywhere you place them. Ceramic is more fragile than other materials, but it's great when you want something really decorative.
If you've been trying to find that perfect finishing touch for your garden, try adding a water feature to it. It's sure to be a welcome addition, creating a tranquil atmosphere for all to enjoy.