Recently I held a competition where my readers could win a *FREE* Fiskars Easy Reach Pruning Wand. As part of the deal I myself received one of these tools to review.
(Disclaimer – I am under no obligation to give a strictly positive or negative review.) Since receiving the tool I have been testing it out so that i can inform you, my readers, on the merits of whether or not you should consider buying this tool.
The day I received the pruner i raced home looking forward to trying it out. My housemates and I went outside straight to a problem palm tree right in front of where I park my car.
Since we moved in I have had to drive through a branch which was dangling down over the driveway. Though this didn't cause any damage, it was really quite annoying.
I grabbed the Easy Reach Pruning Wand and set to work. I aimed it towards the highest point I could (some 2-2.5metres above) and in 2 simple cuts I was able to remove the troublesome palm branch. This left me with an immediate liking for the tool.
Since then I have used it at nearly every customers place and it has worked with absolute ease.
Tree limbs which previously were out of reach are now a case of simple removal and this has left many customers very happy.
I even allowed one of my customers to test it herself. She suffers from arthritis and so I knew this would be a real test of the tool.
Her report back to me was that she had been unable to do any serious gardening for a long time due to her condition but this tool enabled her to trim up a few area's she'd been longing to fix.
A big tick from this front.
Fiskars describes the tool as follows;
Fiskars Tree Pruner, Easyreach Pruning Wand is a multi-use tool with excellent accessibility to tree crowns and dense bushes.

Trim overhead without a ladder or at ground level without bending or kneeling.

Activate the great cutting power with a mere slide of the orange handle or when used at maximum height, pull the orange end knob.

When you need to reach higher branches, try the telescopic version.

The adjustable head and the light cutting mechanism ensures fast, easy and safe pruning.
Features;
• Cutting reach vertically about 3,5 m
• Adjustable cutting angle (up to 230°)
• Can be used together with extension pole 110460
Awards won by the Fiskars Easy Reach Pruning Wand
FISKARS Easy Reach Pruning Wands have won a number of international awards including – "iF" Industrial Design Award (Germany) "Good Design" Award (US) "Reddot" Design Award (Germany), Best of the Best "Trophee de la Nouveaute" (France) "Popular Mechanics Award" (US)
I am very, very happy with the Fiskars Easy Reach pruning wand and definitely recommend it to anyone who has high, hard to reach tree's that need pruning.
Score – 9/10. Priced from $119.00.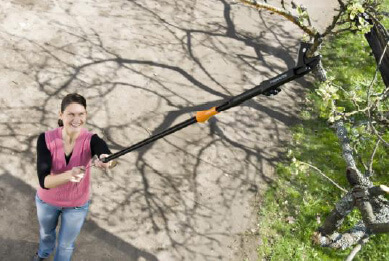 Written by Mick Gillies – Competition winner
I test ran the Fiskars Easy Reach Pruning Wand on my fruit trees just to see how well it handles a hard days work.
The tool is very light weight and also perfect for those who have problems with their hands as it doesn't employ a scissor action, only a pull (slide) action along a long pole.
Using only light force the tool easliy pruned my trees with little muscle power on my behalf. The razor sharp "secateur" blade slices cleanly and easily through branches of around the 1/2? diameter or less.
The "ball" handle does tend to slip from your grip if you tire or apply to much force but when i put on a pair of "rubber" palmed gardening gloves this annoyance was quickly fixed.
The day's pruning went very well and with little energy use on my behalf.
A few things i would like to note are:
* If you consider increasing the jaw strength by adjusting the knot position-don't.The chances of breaking the cutting mechanism is very high due to its lightweight construction so if bigger branches are the target, opt for the saw and let the Fiskars tool do what its designed to do, prune smaller branches.
* Keep an eye on the clamping screws as they tend to loosen and so will need re-tightening. This may only be during the "breaking in" phase so it may not be a permanent hassle.
*The metal that makes up the jaws is very sharp but has that "brittle" look about it so don't over stress it and if the jaws jam don't move them sideways to release.Open the jaw and move back and forth as your would when freeing a knife.
All in all a very satisfying tool to use that's both simple in design yet quite capable of performing the task required.
Once again I would like to note that its shouldn't be used on branches over 1/2? as I personally don't feel the instrument can handle bigger and stay in working order.
When the jobs finished always remember to clean and lubricate the cutting blades for long life and reliability.