Hi there, thanks for checking out Aussie Green Thumb, I appreciate it. If you want more, click here for all my best advice, exclusive content and FREE bonuses!
Over the next three days I will be reviewing various FISKARS products. FISKARS has been kind enough to provide me with a pair of PowerGearTM Hedge Shears, a pair of PowerGearTM Loppers and a pair of PowerGearTM Pruners to review here. All the views expressed are my own as the only obligation I have been given is to give an impartial review.
FISKARS has recently released their PowerGearTM range of tools which are Ease of Use certified by Arthritis Australia. Today I am going to review the PowerGearTM Hedge shears against the criteria I recommended in my buying gardening tools report which you now receive FREE when you sign up to my newsletter.
Here we go.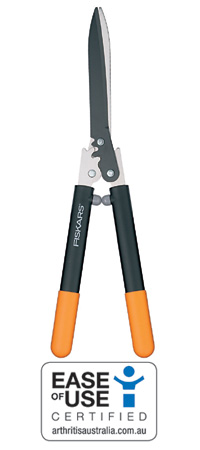 FISKARS PowerGearTM Hedge Shears
The main function of hedge shears is in 'shearing' or trimming the hedges. Most shrubs need trimming at some point so as to stop them from taking over your garden. This is a job for hedge shears.
Is the blade sharp?
When I first picked up the FISKARS PowerGearTM Hedge Shears the very first thing I did was to gently run my finger over the blade and I was very impressed with the sharpness straight out of the box.
The blade was clearly well shaped and these early indications suggested I was going to be very happy with this tool. I was not mistaken.
8/10
Are the blades curved or straight?
This is one area that FISKARS PowerGearTM Hedge Shears are not as good as they can be as they have simple, straight blades.
Slightly curved blades help to catch the thin limbs in trees and stop them slipping down the blade.
However because the blades are sharp I haven't found this to be much of an issue with the PowerGearTM Hedge Shears cleanly and efficiently trimming the hedges I have tested it on.
This feature mostly becomes an issues as the tool gets older and especially so if they blade is not looked after.
6.5/10

What are the handles like?
The handles are nice and light and felt good in my hands. Normally I prefer to have handles with divots in them for better grip but these just seemed to fit naturally.
They are supposed to be very ergonomic and they certainly felt like they were to me. The only negative for me with the handles was the orange covers seemed to come off too easily.
A few times I was pruning away only to have the orange cover fall off, leaving me without a good hold on the tool.
8/10
General Comments
Apart from the minor issues listed above I really enjoyed using the FISKARS PowerGearTM Hedge Shears. They just felt right and made trimming the bushes and hedges I used them on an absolute breeze.
They are designed to be three times easier to prune than most hedge shears and I would have to say, from my experience with hedge shears that they have succeeded.
FISKARS sells their PowerGearTM Hedge Shears for $69.99 and they come with a 25 year warranty which is absolutely fantastic.
The price is towards the higher end in the scheme of things but I am in no doubt that these hedge shears are good value for the price. Overall I would give them a 7.5/10
Stay tuned tomorrow for my review of the FISKARS PowerGearTM Medium Pruner.