The year is absolutely flying by. Here we are, June 1st, nearing the half way mark of the year. If you have missed the plants that I have featured so far either click the banner above which says 'plant of the month' which is always available or click here.
This month I will be reviewing 5 varieties of the Australian Native Plant called the Grevillea. First up let us take a look at the Grevillea excelsior variety.
Grevillea Excelsior Features
Genus: Grevillea
Species: excelsior
Common Name: Flame Grevillea
Flower Colour: Orange
Foliage Colour: Green
Growth Habit: Shrub 3m+
Flowering: Winter to Spring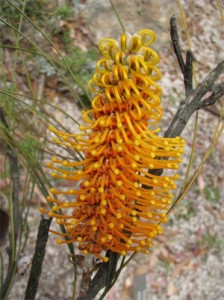 What makes the Grevillea excelsior so grand? Its bright orange flower. Most Grevillea that I have grown have had red flowers but this variety has a rich orange colour which will really light up your garden.
It is a very large growing variety and will take up a good portion on your garden. I personally think this variety would work well as a feature plant in the centre of a garden bed with a heap of smaller shrubs planted around the outside, perhaps even some grevillea ground covers which I will review later this month.
The grevillea excelsior is a bird attracting plant that prefers sand or gravel based soils. It grows best in a full sun position in well draining soil. It is not uncommon for this variety to grow as large as 4m in height so only choose this variety if you really do want a large plant.
Thanks to Lullfitz Nursery for much of this information.