Welcome to the first installment of this series. The main purpose behind this series is to give you a little bit of background as to where I have come from as a green thumb. I want to introduce you to the people that have shaped me into the gardener that I am and help you to understand why I am indeed so passionate about gardening. The entries in this series may be shorter than some of my more regular entries but I do hope they give you an idea of my gardening history.
I will start this series in what could be seen as a strange fashion. I want to explain what I am not as a gardener before I go into what I am as a gardener, as well as where I have come from and why what I am saying at Aussie Green Thumb can help you in your garden.
I am not a qualified gardener or landscaper. I did not go to university and gain a degree in gardening nor have I gone to TAFE to gain a certificate in gardening. I am not a TV celebrity gardener like Jamie Durie or Don Burke. This paragraph alone may leave you wondering why you are bothering with AGT? My hope is that what I write will answer for itself as to why it is useful.
At Aussie Green Thumb it is not really my aim to teach you to take your garden and turn it into 'Australia's Top Garden' because I realise this is not the goal of the everyday person. In fact, in my experience, most people simply want a garden they do not feel ashamed of.
I believe you probably just want a front garden that does not make you cringe when you invite people to come over, and wish you could blindfold your friends until they are inside the doors.
You want a backyard that compliments your amazing outdoor entertainment area and not be a cause for moving the party to your second cousins place! It is you that I have in mind with this blog. It is the everyday, minimum fuss, just want it to look neat gardener.
It is because of this that I believe what I have to say is worth reading. It is because of this that I believe where I have come from has trained me to help in this circumstance. I have grown up in and around the garden.
I am not a professional gardener but simply someone who is passionate about the garden. Things that I take for granted in gardening terms, I am discovering are not quite as simple for people that did not grow up in the garden and it is this kind of simple advice that I believe can make a big difference between someone bothering and not bothering with improving their garden.
It is my belief that every person can have a gardening lifestyle, today and tomorrow. What matters is what this means to you. What does it mean for you to have a garden you are happy with, and what are you willing to do to work towards this? It is the goal of this blog to empower you towards this end and it is the goal of this series to show you how simple it can actually be, with the right people helping. I have learnt most of what I know today as a child. Because of this I believe anyone can learn some simple skills that will go a long way towards them having the garden they want.
Grandma Middleton
If there is one person in my life that has had a the most significant influence on my passion for gardening, it is the Grandma on my father's side. For the 14 years of my life that she was alive, she embodied everything that I imagine when I think of a passionate gardener. I was very close with Grandma Middleton, spending a lot of time over at her house and therefore a lot of time in her garden.
I learned how to trim plants by trimming her hibiscus hedge. I learned to deadhead flowers on her roses. I learned what plants were weeds and what were seedlings she had planted in her garden. In fact whenever I would stay over at her house, when I woke up at about 7 am, I would always find her outside pottering around in the garden: 10 minutes deadheading, 25 minutes watering, 10 minutes weeding. Just a rough approximation of how she started her day.
I learned from her that sweet pea's need something to climb up. I learned how to make a soil mound around new plants to make sure that when they are watered, the water goes to the plant and does not run away. I even learned that a grandma can be quite sprightly when she discovers an unwanted cat in her garden!
A lot of my passion for gardening comes from the fact that I had so many good memories with my Grandma Middleton in the garden. I think, in a way, every time I am in the garden now, I almost feel like I am spending time with my Grandma, so it makes every gardening experience a special experience. And that is the thing about gardening. It is not just about what your garden looks like, but who you get to share it with. Anybody with a good garden wants to show it off to their closest friends and relatives because there is something special about sharing a nice garden with good people.
Another great aspect of my gardening experience with my Grandma is that she made it fun. It was not a chore to pull out weeds. It was not a chore to trim the hedges. Somehow, in spending the quality time in the garden with her, what many people see as annoying tasks became great little social occasions. Perhaps that has also had a great deal of influence over why I enjoy gardening so much! However you look at it, I owe a lot to my Grandma Middleton for instilling in me a sense of pride in gardening and a willingness to learn and grow new things.
Grandma Tysoe
Though the direct influence my Grandma Tysoe has had on my gardening story is certainly smaller than my Grandma Middleton, she none the less has played a role in my green thumb development. In fact as far as gardening skill goes, she is probably a better gardener overall. What she can do with a piece of dirt has consistently blown my mind as I have grown up.
I still remember when she took over renting a house that belonged to the church I grew up at. It was an old house with very little going for it. The gardens were tatty, having not been cared for in a very long time. In fact if ever I wish I had before and after photo's of a garden make-over, it would be this example. My Grandma took what she had and made it into something very, very special. Every square centimetre had something. She mixed colours but in a way that worked. She used pretty typical cottage garden plants, but in such a way that the place looked so much more than a little cottage garden.
Within one year, a short time really in the gardening world, she had transformed that place into an amazing plethora of colour and fragrance. I remember people would walk into the church and comment how beautiful the cottage garden was looking. Not only did she pick up the garden beds that were already there but she made a few new ones. Quite simply, it was a garden spectacular.
When my Grandma decided to move out I remember my parents saying something about the church being dismayed. They knew they would not find somebody to live there who would do such a good job with the garden. If I remember correctly they even toyed with the idea of increasing the rent so they could employ someone to maintain it, though this may not be the case. But hey, I was only about  9 years old.
It is this sort of memory, this sort of experience, that inspires a young child to be a gardener. I hope that when I buy my first house I can grow a garden half as good as my Grandma Tysoe. And the fact of the matter is, this is but one story of her taking a patch of soil and making it something special. I could probably tell another 10 stories just like this of other places she has lived and absolutely transformed the garden. So though the one on one influence is smaller, the overall influence in my understanding of gardening is definitely there.
'Nan' Croxford
I have said before in this series that my gardening blood goes a long way back. This months 'My Gardening Story' is all about my great-grandmother Eileen Croxford. Much of this information comes from a biography written about her, which can be found here.
My nan was born on the  11th of December, 1912 in Mannamead, Plymouth, Devon, England. They migrated to Western Australia, in particular, a little town called Denmark, in 1924 as part of a group settlement scheme.
From the biography
"We just lived in these shacks – no floor, no doors, no windows. I wasout to work by the time I was 12. I was 20 when I got married andthen I proceeded to have a family. Then the war came, my husbandwent away to Japan and didn't come back again".
My Nan was always very interested in wildflowers. I remember visiting her house in Albany as a child many times and just being amazed at the scale of natural wilderness that she created around her. She owned 2-3 blocks next to each other and each one was absolutely covered in such amazing colours and a vast array of plant varieties. Sadly as time went by I saw her being able to tend to less and less of this amazing garden, but she never lost her passion. I go past the old place now, the extra blocks have been sold off and concrete rules the roost around brick houses. It is almost sad to see the beauty that once reigned replaced so easily.
Before she lived in the house mentioned above, she lived near the Albany Airport, which is where she really started to learn about the local flora. She taught herself the botany of the local plants and also started the local Wildflower Society branch. More than 7,500 of her own collections are now housed in the state herbarium.
More from the biography
"I have always had a garden and I had a little business called the Garden Florist over the telephone. When I shifted to the Albany airport in 1961 I had to have a garden there, so I thought I will have a wild flower garden because I can remember the airport before it really was a proper airport and it was just a field of flowers – it was beautiful. So I used to go over to the back of the airport, very carefully remove little plants and plant them in the beds. They all died, so I decided I had to do it properly: I had to really learn about these flowers so I could grow them, and I started pressing flowers. Dr John Beard came to the airport one day, and I said to John, "Will you help me with these names?" He helped me a bit and said, "Eileen you must not stop doing this – there are no plans in this government to do any research into the Albany region until 1995. Because you are so interested in wildflowers, how about you convene a meeting to form an Albany branch of the West Australian Wildflower Society".Well, I did this, not expecting very many people, and nearly 40 people turned up and we went on from there. That was 1963."
Nan Croxford's love of plants lives on through her children, especially her daughter Hazel and granddaughter Sue, who run and are involved in the business Everlasting Concepts which "works with local shires, property developers, government departments and the industries of horticulture and landscaping. "
It seems everywhere I turn, I discover more and more people in my family who are absolutely obsessed with the beauty of nature!
My Parents
So far in my gardening story I have told you how both my grandmas' have influenced my developing green thumb. They both have had various influences on me, but another major way that they have helped develop my green thumb was by being the parents to my parents! Without my parents helping me and encouraging my green thumb development I definitely would not be where I am today.
From a very early age I have spent time in the garden with Mum and Dad. From growing veggies to growing various annual and perennial plants, my parents have always been active in the garden and have encouraged me to 'help them' (if you can call it that!) from time to time. I particularly remember 'helping' set up the new garden beds after we bought a house in Albany. I'd help Dad move old rail sleepers that he was laying as a border. I'd help mum pull weeds out of the pre-existing garden beds. It was always very exciting to be with them out in the garden, doing something that we all loved together.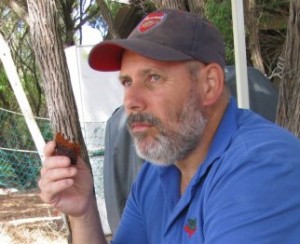 It seems that my parents have very much taken after their own parents. In recent years they sold the family home and have gone back into the life of renting. Though they haven't lived in a plethora of places like my Grandma Tysoe has, the ones they have lived in have been left with significantly better gardens even after only a short period of time. Where they live currently is truly a testament to their green thumb. The soil at the house they are living in is pretty much the whitest soil I have seen. Now, a GENERAL rule is that the darker the soil, the healthier it is. That gives you an idea about the health of the soil at their place. And yet in about a year, by adding lots of organic matter, fertiliser and mulch they have transformed the garden into a beautiful little cottage garden with all kinds of annual and perennial plants. They have also planted a number of roses which are thriving.
I have been very blessed to have been surrounded by people such as my parents in my developing years. The passion, love, and joy that they experience in the garden has been well and truly passed on to me. They regularly update me on the state of their garden and, whenever I go down to Albany to visit, I get the full tour and history for each of the plants that have gone in since I last visited. I very much enjoy these times because they remind me of the quality time that I have spent with my parents over the years in the garden. Thanks Mum and Dad!
My First Garden
My parents bought a house in Albany in 1994 and not long after we moved in, I staked a claim for a piece of dirt in the backyard. It was probably about 3 metres long by 1 metre wide and didn't really serve a purpose at the time. It had infact been a gap between a fence and the garage but we quickly knocked the fence over because it wasn't very stable. As such, this space was opened up and I was happy to claim it as my own.
At this stage I hadn't been introduced to the world of Australian Native Plants and so my very first garden generally consisted of your everyday cottage garden type plants. I experimented with impatients, petunias, marigolds, vincas, carnations, etc. I also planted various varieties of roses such as Iceberg, Double Delight and Just Joey. As much as I would like to lay claim to doing a lot of work in this garden…a lot of credit has to go to my parents who actually did most of the work; I just called it my garden. Still, every spring I would go with my parents to the local nurseries, help them pick out the plants and then go home and plant them myself, it was just the ongoing maintenance (and dreaded weeding) which my parents mostly kept in check.
The experimenting that I did in my very first garden really helped to lay the foundations for my current green thumb. I learned all about soils and the nutrients required to grow healthy plants. I worked out that building a mound around plants helped to direct the water to their roots. I learned about plant spacing after I made the mistake of planting two daises so close together that they virtually forever looked like one plant, even when they were covering a square metre of space! I really enjoyed the time that I did spend in this garden and credit my parents with allowing me to have this space. Every other garden space was always majestic and wonderful, whereas mine went through phases of looking magnificent and phases of being entirely dilapidated. Still it was only because I was enabled and encouraged to give gardening a go that I grew the passion and skills that I now possess.
What about you? Do you have children? Do they have a space they can call their own? I'm a firm believer in reclaiming the lost art of gardening in our next generation so why don't you help out by encouraging your own children to put the computer game controller down and get out amongst the dirt?
Plants I Grew
I want to look at two mainstays of the Australian cottage garden, which I have had a lot to do with over the years: the humble petunia and marigold.
The humble petunia is found in countless gardens around Australia and, in fact, the world. It is one of many plants whose scientific name has also become its common name. Petunia is the 'genus' and then the different varieties of petunia have different species names. Historically the petunia is native to South America but the varieties that we have today are a far cry from those first discovered in the 1700's to 1800's. The dazzling colours and ability to grow in almost any climate have been bred into today's petunia's which are basically all hybrid species.
Growing up I loved to have as many different varieties of petunia as I could. I was captured by their stunningly brilliant colours; the way the colours almost seemed to dance across the flower. Purples flowing into whites flowing into yellows; it seemed every colour in the rainbow was represented by some variety of petunia. They were also great plants for a young one to grow because they seemed to be quite easy plants to look after and, in the good years, would spread across my first garden with ease. Though I now focus more on Australian Native Plants, I have fond memories of my times growing petunia's and they do still occasionally find their way into a plot in my yard.

Marigold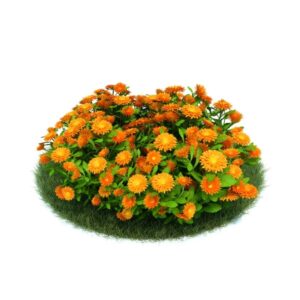 Another famous annual that I grew up growing is called the Common Marigold or Calendula officinalis cvs. This is another annual variety that is found in gardens almost all over Australia, the only exception really being the tropics where it doesn't tend to grow well. Everywhere else, it seems that everyone wants to get in on the action with nurseries stocking themselves with various varieties of Marigold.
As a child, I really enjoyed growing the Common Marigold because I absolutely loved the flower. To me, it almost looked like a really big daisy flower with all the petals picked off and, for some reason, this really appealed to me. It also worked well as a border plant so I'd often plant the petunia's towards the back wall so they could spread out over the garden and then plant a row of Marigolds at the front. Also, the simplicity of the flower seemed to contrast well with the range of patterns displayed by the various petunias I grew. There was something about having a solid colour flower as a border that just seemed to 'work'.
These are just two of the plants that I grew up growing. Over the next couple of months I will discuss some of the other plants I 'cut my teeth' on in terms of gardening.
Impatiens
According to Wikipedia "Impatiens is a genus of about 850–1,000 species of flowering plants, widely distributed throughout the Northern Hemisphere and tropics." This does not surprise me because a lot of people in the Southern Hemisphere find it quite difficult to grow Impatiens.
My family and I had mixed success in growing various different species of impatiens. Generally in Australia impatiens prefer a shaded area because they really do struggle under the beating sun. They grow better in the tropics of Australia than the more temperate or cool zones. But then, I grew up in an area almost as South as you can get in Australia without going to Tasmania, and an area that has the propensity to be cold and wet. Figure that one out?
The reason I wanted to share about impatiens in this post is because they are actually, very nearly, my favourite plant that I grew growing up. They were simply stunning when in full bloom. We had a dart passage that ran along the side of my childhood home and it was here that our impatiens flourished. It was by growing impatiens that I learned some plants can be propagated by cuttings. Anyone who has grown impatiens successfully will know that, in the right spots, impatiens grow very well from cuttings. I remember quite regularly I'd be running down the path, knock off a bit of impatiens, stick it in the ground to make it look like I hadn't done anything and then two weeks later find another healthy plant growing! Whenever people would ask us for cuttings, we'd break a few pieces off, stick them in a glass of water for a few days and come back to find they had grown sufficient roots to be planted. In the right places, impatiens really are a great plant choice.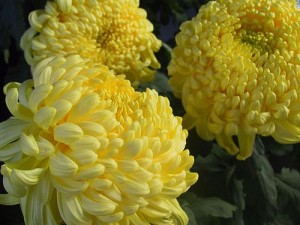 Chrysanthemum
The second plant that I am featuring today is the chrysanthemum. Wikipedia says that the "Chrysanthemum , often called mums or chrysanths, are a genus of about 30 species of perennial flowering plants in the family Asteraceae, native to Asia and northeastern Europe." In Australia they are very popular because they flower right around Mothers day, making them a great flower to give to your mum on that special day.
We often had a whole garden full of different species of chrysanthemum right out the front of our house. When they were in bloom every visitor would be greeted with a great display of colour,  a great way to be welcomed to our home. We generally got 3-4 flowering seasons out of our chrysanthemums before having to replace them with new plants.
If you are looking for good cottage garden-style plants, both of these are good choices. Just remember, impatiens can be a little difficult (but then in the right place prove to be one of the easiest plants I have grown) and much prefer shade to beaming sunlight. The best varieties to go for in Australia are those native to Papua New Guinea and surrounding areas.
Roses
Most people that enjoy gardening have, at some stage or another, grown roses. There seems to be a natural affinity between growing roses and gardening. In fact, a few years ago, a survey was taken of people that DON'T like gardening. They were asked 'if you were to grow anything, what would it be?'  The overwhelming response was roses!
There is something about the humble rose that makes it an alluring plant to many people. I grew up absolutely surrounded by people who loved roses. My Grandma, who has been so influential in developing my green thumb, had the entire frontage of her house filled with roses. They pretty much acted as a fence, and were in fact 'healthier' looking than the small fence that was there. These roses were absolutely beautiful. Some were as old as 40 years when I was a child and had really old, thick trunks. When I would see young roses, I wouldn't recognise them because my Grandma's had such thick branches.
My parents also shared a love for roses. We had a dedicated 'rose garden' out the front with around 10-15 different rose plants of various varieties. Even my little garden out the back had 3-4 roses. I remember distinctly growing an iceberg (white) rose bush and a double delight (pinky yellow) rose bush. I also had a couple of others but I have forgotten what they were called. I also learned how to prune roses from a young age which is a skill I cherish to this day!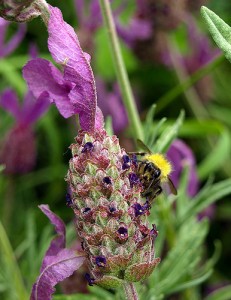 Lavender
Lavender is a another plant that was a staple plant in the garden as I grew up. Part of this was because we loved lavender…and part of it was the fact that lavender spreads really easily! I am pretty sure we started with about two to three plants across the front of the house and this multiplied into five to ten plants around our front yard.
When in bloom lavenders are hard to beat for beauty in my opinion, especially when there are multiple plants together. Obviously different lavenders have slightly different colours, but the ones I grew up growing were always the most beautiful deep purples. Lavender also has a very nice aroma which makes it a good plant to have around the garden and it attracts bees and other insects which is very helpful for the rest of the garden.
Lavender also has many culinary and herbal uses, though we never used lavender for this purpose. It was simply a beautiful plant which grew to a reasonable size to fill some of the bigger spaces that we had to fill outside. A great plant for any garden, as long as you don't mind multiplication of plants!
Growing Vegetables
Today I want to talk about the area of gardening that I have more to do with than any other and that is vegetable gardening. Almost all my life I have been involved, whether actively or as a spectator (and therefore learning by watching), with vegetable gardening. My parents loved to grow vegetables in the back yard because it is a very cheap way of producing food!
My first memories of vegetable gardening are of a very productive bean crop that we had growing right up towards the back fence of my first house. I would have been around 5-6 years old and I remember how excited I was every few days to walk down the back with Mum or Dad and harvest the latest crop of beans. They seemed to grown without end. Every time we went out there we would find more beans to pick off. As a child it was so exciting to sit down to dinner at night and eat something that my family had grown!
I also remember quite strongly when we first (as far as I remember) grew pumpkins and how Mum had to learn how to tell when they were ready to be eaten. She would cut a little triangle in the side when we were pretty sure they were ready. I'll be honest with you, to this day I still don't actually know how that tells you if they are ready or not but it is a lasting memory for me.
In 1993 we moved to Albany and so grew our passion for vegetable gardening. In the last entry to this series, I wrote about My First Garden. One thing that was pretty much a constant in my first garden was tomato plants. At first this was because we planted them there and they thrived. Thereafter, they succeeded because tomatoes are fantastic self-seeders and so they would just continue to pop up here and there. We never complained! Some of the juiciest tomatoes I have ever eaten were grown in my little garden. I used to watch them from when they were very little right through to when I would have to get Dad to stake them for me so that they didn't topple over under their own weight. It was grand.
Growing vegetables has taught me so much about gardening and the great thing about this is that you can do it to! Buying a few punnets of vegetables is quite inexpensive and you can then use these to hone your own gardening skills. If you can grow a healthy, productive vegetable garden then I believe you really can grow anything because the principles you learn from growing vegetables truly carry across to all forms of gardening. So, why not get out there and plant some vegetables today? Your dinner plate will likely appreciate it!
Starting Aussie Green Thumb:
Part 1 – The Business
As the end of the year draws closer, so does the 'My Gardening Story' series. There are two entries to this series left to go and they will both be covering how I came to start Aussie Green Thumb. In Part 1 I am going to talk about how and why I came to start Aussie Green Thumb as a small business. In Part 2 I am going to talk about how and why I started this very blog: AussieGreenThumb.com. I hope you enjoy these last entries over the next two months.
Starting Aussie Green Thumb – The Business
At the end of 2006 my life was at a pretty important crossroad. I was deciding whether to stay with the employer I was with at the time, who had trained me in the career I desired to work in but that may not have been able to enable me to go much further, or to move to a new employer in the role that I desired. After much thought and consideration, and much discussion with my employer, I decided to stay and we worked out a way that I could pretty much play the role I wanted in a slightly different way.
There was only one catch with this…the role would still not be full time. As someone who had spent most of the previous few years studying, this had not been a problem. Now, in 2007, my studies would be getting close to winding down and I was no longer going to be receiving government support. As such I needed another job to help pay the bills.
The Problem
There was one great big problem with this idea, the job I already had which wasn't full time was one I was very passionate about. It also wasn't a simple 9-5 job, the hours spread all over the place and were not necessarily the same from week to week. This meant that finding another job to fit in around this was difficult. I looked for a while but pretty quickly realised this was too difficult.
The Solution
One day I was over at a friends place helping them with some gardening. I didn't do a lot of this, but when I did I really enjoyed it. While gardening this person nonchalantly said 'you know, you could start a gardening business'. I could just about end this post right there because, in a nutshell, that is how I came to start my gardening business. Those words from a friend were all it took to convince me this is what I should do.
Not long after this I raced home and jumped onto the internet to explore what it would take to start a small business. I booked an appointment with a small business advisor to find out what I needed to know to start a business. I started to brainstorm some ideas for names and actually fell upon, and decided to go with, Aussie Green Thumb pretty quickly. There was no real market research or strong reasons why I went with it, I just liked it.
Not long after I settled on this I asked an animator friend of mine to design a logo for me (see above). I wanted a green hand with a thumb sticking up with an Aussie flag as the nail. As you can see, he did an amazing job! However, not too long after this I realised, as great as the image is, it isn't really a good 'logo'. I still use it for other purposes, but I had another friend (a graphic designer) make one for me, which is the current Aussie Green Thumb logo.
And so began my journey as a paid gardener. I got a lot of friends as clients at first, and this then broadened to friends of friends, until eventually I had 2 solid days worth a week (my goal) of gardening, which I could fit in around my other job.
At the end of 2007 my life changed again which led to the initial closure of Aussie Green Thumb. From 2008-2009 I didn't operate either the business or my blog, but come the start of 2010, when I again needed a flexible job to fit into my life, I re-started Aussie Green Thumb and am enjoying it immensely.
Next month I'll cover how I came to start this blog, which, being honest, is what I am actually most passionate about. I am very much enjoying helping equip people to do the gardening themselves, to discover the green thumb inside of them.
Starting Aussie Green Thumb:
Part 2 – Starting the Blog
Hello and welcome to the final installment of 'My Gardening Story'. Last month I looked at how I came to start my gardening small business. This month I am going to focus on how I came to start AussieGreenThumb.com the blog. So sit back and discover just what went into starting this blog.
I began 'blogging' for fun on June 11th, 2004. For posterity sake, here is my first ever 'blog entry' of any kind, hosted on a very old personal blog of mine.
Day One

Well I felt like writing a bit about myself and thought why not do it on the internet. Don't know how often I will be posting but what the heck, let's just wait and see:)

My nickname is Middo and I am 19. Love God, love Sport(go Eagles!),love life. A lot of interesting stuff happens to me but unfortunately my siv like memory leads me to forgetting exactly what happened (ok, so my memory may not be that bad but important events are not my forte in the remembering stakes). Had an awesome weekend on sport last weekend at State Youth Games. Being young I pulled up quite well but now have an irritating cold.

Well that's all for now, can't give too much away. Save some for later;)

Cheers All.
It's nothing special but it was the beginning of my journey into blogging. From 2004-2007 I continued to write entries in a personal blog, which I shared with friends and family, but there wasn't really any focus or purpose to my writing. I just mind dumped everything when I needed to. However, towards the end of 2006, I decided to make a change.
This change goes closely hand-in-hand with my decision to start a gardening business. My life situation was about to change and I needed to find some other forms of income. I had heard about people blogging for money and decided that this is something I'd really like to give a shot.
I found a blog called 'Entrepreneur's Journey' which I started to read. This blog was all about how you could make money from blogging. As I had been blogging for 3 years, for fun, at this stage, I was quite intrigued at the idea. Then not long after I began reading, Yaro (the author) offered a course called 'Blog Mastermind' in which he was going to lay out the strategies and practical proofs for becoming a professional blogger. I signed up to the 6 month course and so began my journey.
One of the first things that Yaro taught was the idea of finding your niche. He pointed out that you need to focus on a particular area to succeed. As I was starting a gardening business at the time, and as I am very passionate about gardening (and this has only grown), I decided a blog on gardening was a good idea. However this was not focused enough. As such I began to think about what area of gardening I was most interested in, but nothing in particular came to me. So I did a little research to find out what gardening blogs were out there in Australia and I determined that there was a lack of good quality blogs about native gardening. This wasn't necessarily something I knew much about, but I figured, what better way to teach people how to do it than to have had to learn it myself in the first place?
So at the start of 2007, as I set up my gardening small business, I also started the first 'AussieGreenThumb.com'. Very early on I ran a competition to help me determine a tagline for my blog. The winner in the end was a friend of mine called Bek. There were 2 taglines of hers that I really liked and so I added them together, resulting in: 'Cultivating a gardening lifestyle, today and tomorrow'. For more information on what this means to me, check out my about page.
I continued blogging 'for money' for the whole of 2007. Towards the end of 2007 my life was about to change again. I was about to move towns, which meant I had to seriously think about what to do with my gardening business and blog. I hadn't felt like it was extremely successful; I certainly wasn't seeing any money, and so I decided to put my foray into blogging for money either on hold or to bed, I wasn't sure which.
One of my biggest reflections from this time was that blogging 'for money' didn't really build the passion in me required to blog regularly. Yaro teaches about this in his course. It is dangerous to go into blogging with the main focus being 'to become rich'. Blogging is all about being passionate about your subject matter. I think the best writing comes when you can't possibly NOT write. This isn't to say that there aren't days of writers block – there are – and you have to push through them. But authors write because they LOVE it, not because you make lots of money from it (which you don't, generally).
To round out this post, we skip forward a couple of years. It is the end of 2009. I am living back in Perth and have decided to start my gardening business again. The question came early to me: am I going to start up the blog aspect of my business again? In the few years since 2006/7 I have learned a lot about gardening and in particular gardening with native plants. I stopped blogging…but I didn't stop gardening! In my thinking about starting up again or not, I had to work out 'why' I would write. I decided I did want to blog on gardening again, and determined to write from my passion for gardening and not from a desire to become a millionaire.
As a person, I believe in honesty, so I do feel compelled to admit I still harbour desires for this blog to be 'profitable'. Though I truly do write now because I have a passion to write and a passion to help other people develop their green thumbs, there will come a time when I will 'monetize' the site. Now, don't worry, my readers, I won't be charging you to access my blog. I will likely have advertising, and I will likely offer other opportunities to receive paid content. But the major focus of my blog now is helping you cultivate a gardening lifestyle, today and tomorrow. Any other desire is not enough to drive me to write regularly!
Though my blog entries on My Gardening Story end here, my story does not, and nor does yours. In fact many of you may just be beginning a new chapter in your gardening story! I want to continue to write my story by helping you write yours, so get out there and try your hand at growing something, preferably something native, and then journey with me towards becoming the best green thumb you can possibly
To your gardening success.
My Gardening Story:
How I Became Aussie Green Thumb
This month at AussieGreenThumb.com is 'So You Want A Better Garden?' month. During this month I am hoping you will allow me to help you move towards your gardening goals and aspirations. For this to occur though I believe you need to know a little about who I am, how I came to be so passionate about gardening or basically how I became Aussie Green Thumb.
During 2010 I wrote a 12 part series which outlined my gardening story. This series covered topics such as the plants I grew up growing, the people who inspired me and even covers how and why I came to start AussieGreenThumb.com. Since I finished the series I have had regular and abundant requests to put this series together in one place.
The good news is I have done so and I am releasing that now. So, would you like a better garden? Would you like to know a bit about me and why I think I can help you move towards your gardening goals? Well, click here to download My Gardening Story as an ebook for free, as well as my native plant of the month ebook, also free.
Enjoy!
So You Want A Better Garden?
All my best articles have been collected into what I'm calling the ultimate gardening toolkit – make sure you take a look, there's a heap of great gardening advice available.
I've also published a series of gardening ebooks that you might be interested in. Good luck!