High density living is here to stay. Housing it going upwards, and outdoor spaces are becoming smaller and smaller. But there's still hope, even on the 23rd floor! Here's some tips for having a productive balcony garden.
Pots and planters
I know, this sounds like a no brainer, but it really is the easiest way to get plants on your balcony. Depending on your area, you can use big troughs and pots to build natural screens or fill in some nasty corners, or if space is really at a premium, smaller pots with nice feature plants. 
Don't hold back in your style of pot or planter either. For instance, you can make these Macramé plant hangers and Crochet hanging plant patterns as additional art to your balcony. 
There's so many different styles of pots out there to choose from. Recycled timber boxes are also a really nice way to add some texture and vintage charm to your area. These can be filled with herbs, flowers, or even succulents.
Peperomias goes well on hanging planters so be sure to check out our Peperomia hope growing guide. 
 Photo 'Bright Flowers in Wooden Planters' by Theen Moy, Flickr
Grow up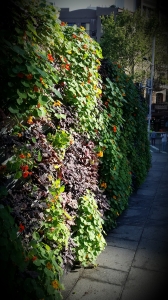 Like your apartment building, think about going vertical with your plants. Green walls and facades are a great way to grow plants in a small space. You can usually buy pre-made set ups made of plastic and add your own plants, but think about making your own.
Stacking several pots of descending sized on top of each other can give you a nice easy plant tower.
A tip here is to use some styrofoam in the middle where the pot sits, and fill only the surrounds with soil. Cuts down on weight, and cost.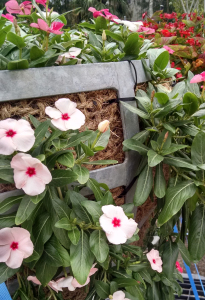 Hanging baskets from the roof, or growing climbers like beans, or jasmine up walls using a trellis or wire are another way you can get some colour into your small balcony area.
Bare Walls
This one is a little different, but still an interesting way to get some life into your small area. If you have an unsightly bare brick wall in your area, consider doing some green graffiti on it!
Grab some moss from a nursery (or just a rock) and throw it in a blender with buttermilk, sugar and water and give it a quick mix to make a paste.
Next, paint whatever pattern, words or image you want on your wall with the paste, and then let it dry.
Come back every day or so and give it a mist with some water to keep it damp, and in no time, the moss will begin to grow in the pattern you drew!
Living, breathing art.
Photo 'Moss Graffiti, Anna Gray Garforth' by faseextra, Flickr.
So with a few simple additions, and some creative thinking, you too can grow some beautiful plants and flowers, no matter how small your outdoor space is. For more gardening options, see our guide on how to make a boat garden and sustainable gardening.