Last week I featured the Beaufortia purpurea, this week I am featuring the Beaufortia sparsa.
Beaufortia Sparsa Features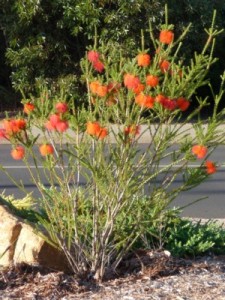 Genus: Beaufortia
Species: sparsa
Common Name: Southwest bottlebrush and Swamp bottlebrush
Flower Colour: Red
Foliage Colour: Green
Growth Habit: Shrub 1m
Flowering: Autumn
I haven't actually grown or seen the sparsa in person but the photo's I have seen make it look really interesting and definitely is a plant that I'd like to try my hand at growing sometime.
It is not a typical Bottlebrush (which are mostly found in the Callistemon genus) but I can see how its common name includes 'bottlebrush' as the flowers do have a distinct similarity with many common bottlebrushes.
This variety grows best in full sun and is very much a bird and wildlife attracting plant. Once it is well established you can trim this plant into the shape and size that you desire.Flowers throughout Autumn and is native to the South West of Western Australia though I have read that it grows well in most of Southern Australia.
Thanks to Lullfitz for much of this information. To read about a fifth variety of Beaufortia sign up to my newsletter. Each month my newsletter subscribers get a 'members only' review of a fifth species of my plant of the month. To sign up to my newsletter simply fill in the form above, click on 'sign up' and follow the instructions.