Do you want to grow a better garden? Check out my ebook which covers 7 of the most important topics you need to understand to start growing a better garden today!
Spring is well and truly in the air. As I write this I am looking out my window at the wonderful blue sky with the sun shining down all around. I really do enjoy Spring. With Spring comes flower season and to make sure that your garden has the best display possible this spring you need to make sure that you are regularly feeding your plants. There are many different ways to fertilise plants but my favourite way is to spray them with liquid fertiliser. To do this job you need a good garden sprayer and today I am going to tell you all about the  Hozelock range of Sprayers. According to Adam Woodhams, Hozelock's high quality range of specialty garden sprayers will set you on the path to a perfect garden.
Before we get into the article, a quick disclaimer. I was provided with a free sample of the two garden sprayers I am about to review. I was not paid or placed under any coercion to provide a specifically positive or negative review, simply to write my own unbiased opinions. As such the below reviews are my thoughts on the Hozelock garden sprayers. Thankfully…I loved them so this is really easy to write!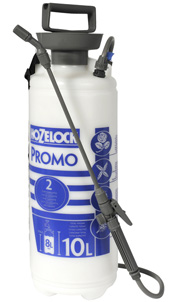 Sprayer 1 – Hozelock Garden Sprayer – Retails from $36

This is the basic garden sprayer from the Hozelock range. Its features(from media release);
· Lightweight outdoor pressure sprayer with an ergonomic pump handle for easy pressurisation. (available in either 7L or 10L sizes).
· Features a lockable flow control and trigger, as well as a unique easy fill wide neck to ensure no liquids are wasted or spilt on you.
· Easily adjusted spray nozzle allows for simple pattern change – from jet for spot treatment to cone & mist for chemical application of wide areas.
From my testing I would very strongly agree with each of these features. When i received the sprayer it was in pieces but I found it extremely easy to put together, the pieces just made sense. However the instructions provided are ample if you do need some help in setting it up.
With my gardening work I regularly have to cover large area's. I have found that the 10L variety easily covers pretty much any size space that I would need to which saves me having to continually fill up. The pump mechanism for building pressure is simple to use and moves up and down with ease. It also locks in to the top when you are ready to use the sprayer. Once pressurised I put the sprayer into a lock position so I could see how long it sprayed for without significant loss of pressure. I was astounded to still be timing after 4 minutes of continually spraying with very minimal drop in pressure. After 4 and a half minutes I pumped it a few more times to see how much it took to get it back to full pressure, only 6-10 pumps and it was back.
This sprayer also has a pressure valve built in so that if, for whatever reason, the pressure does become too much, the sprayer allows some pressure out so that you don't have an exploding sprayer. Though this shouldn't ever really be an issue, it is good to have that safety mechanism in place.
Score: 8/10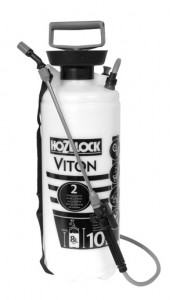 Sprayer 2 – Hozelock Viton® Sprayer – Retails from $30

This particular sprayer is designed specifically for chemicals that require a little more safety in storage. Features include (from the Fiskars media release);
· A range of three sprayers (1.25L, 7L and 10L) specially designed for heavy duty applications, which require resistance to more aggressive chemicals.
· Equipped with a set of Viton® fluoroelastomer seals and stainless steel lance for added protection against harsh chemicals.
· Suitable for chemicals such as: motor oil, turpentine oil, petrol, ink, methylated spirits,
hydraulic fluid, bleach, degreaser and floor wax.
· Viton® is a registered trademark of Dupont
This sprayer is designed for spraying the more nasty garden chemicals. From lower scale insecticides to high end poisons, the Viton® garden sprayer  will do the job with aplomb.
I tested this sprayer using RoundUp®. I got very similar results in terms of pressure and length of use as I did with the garden sprayer. I was able to fill the bottle and then clean it afterward without having to make contact with anything that had come in contact with the insecticide. The controllable nozzle head made it very easy to choose the right spray so that i could focus on smaller area's when other plants were present but also make it bigger when I wanted to cover weed infested area's.
Score – 8/10
What i like most about these two sprayers is that, between the two of them, every spraying task I might have in my garden can be completed. Having one of each also means that I can keep my good chemicals (fertilisers etc) completely separate from my bad checmicals (RoundUp® etc). I don't have to worry when using fertilisers that there may be traces of poison in my sprayer because I won't have used anything but good fertiliser in it.
I strongly recommend you consider either or, better still both of these products if and when you are looking to buy garden sprayers.