Last week I featured the Boronia fraseri, this week I am featuring the Boronia telopea.
Boronia Telopea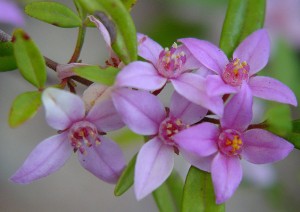 Genus: Boronia
Species: telopea
Common Name: Telopea Valley Star
Flower Colour: Pink
Foliage Colour: Green
Growth Habit: Shrub to 1m
Flowering: Mostly Spring but may flower any season
There is not an awful lot of information available on the Boronia telopea species however I will provide you with what I can. I wanted to feature this variety, even though it is similar to the fraseri, because I really like the simple contrast between the light pink flowers and the bright, light green leaves.
It is no surprise that it looks similar to Boronia fraseri because the telopea is a hybrid of Boronia fraseri and Boronia mollis.
Being a hybrid, there is no specific naturally occuring location, however the telopea has been proven to grow well on in cool to temperate climates on the East Coast of Australia. Testing in tropical area's has been limited.
This variety is generally quite hardy, able to survive mild frost and mild drought conditions. The Boronia telopea also responds really well to regular pruning and shaping. In this variety, as in many, regular pruning really does encourage it to grow more densely.
I couldn't what sort of garden position would be best for the telopea, however I would plant it in a position that is at least part shade as most Boronia's I have grown have required some shade to really thrive.
Thanks to Ian Grieve for the following information.
Telopea Valley Star was discovered and named by my parents John & Mary Grieve at their property 'Telopea Valley' Kulnura NSW in the early 1980's where the plant was growing naturally.  They discovered and named several other plants, all bearing 'Telopea Valley' in the name.