A little while ago I got the chance to sit down and have a chat with Stephen Clark who is the Product Manager for GARDENA Australia.
Here at Aussie Green Thumb we have long been fans of the GARDENA product range, having previously reviewed the smart flow water meter which helps you track how much water you are using in your garden (hint: it's great).
GARDENA is a well established brand originating in Germany with a reputation for high quality, durable products that will stand the test of time.
One of the Gardena products also made it into our top retractable hose reels in Australia for 2023.
I was excited to be able to gain a bit of an insight into the GARDENA research and production process and Stephen was really forthcoming with tips and ideas for working smarter in the garden.
So let's get into it!
So Stephen tell us a little bit about your background?
I've been working in the garden tool and garden products industry for over 25 years and have developed a real passion for gardening products, particularly over the past 7 years while I've been directly involved with GARDENA.
I've had the opportunity to become intimately involved in product development and marketing both within Australia and overseas in Germany.
I'm particularly passionate about the need as Australians to save water: we happen to have some of the driest conditions in the world; in fact Adelaide is the driest city, in the driest state, in the driest country in the world!
Could you give us a quick history of GARDENA and what it stands for?
GARDENA as a company has developed as a system that fits perfectly together and is all about responsible use of water in your garden.
Everything that GARDENA makes is designed to fit together and fit into our system, as an integrated product line and the focus is always on integration, and minimum water wastage.
GARDENA invented the first plastic click on hose connector in 1968 – two men set up the business Germany in 1965, where it continues to thrive as an iconic brand in Germany and more widely throughout Europe.
Quality and reliability has been consistent right over that time. GARDENA's motto is that we are passionate about gardens, and we want to make sure gardeners get the most out of their garden and their gardening – be it a professional, a hobby gardener or your average person with a garden.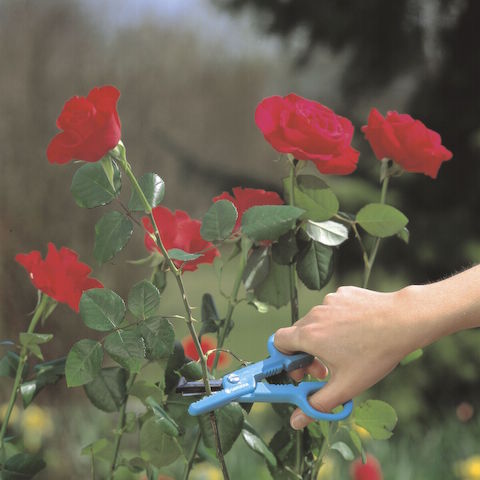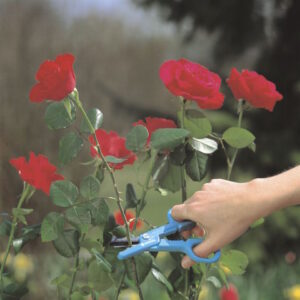 There is a focus on producing good quality products rather than mass production of products. Research & Development is done in Australia to alter particular products to suit the local environment; for example, we have a water timer product that was designed to fit in with Australian water restrictions, and this model is only sold in Australia and New Zealand.
GARDENA's focus is always on producing quality products that will last – there are a lot of products on the market that just don't have the design quality and the research behind them, and they sacrifice durability for a slight cost saving. We strive to deliver durable products that still offer great value.
Could you give us a quick walk through the product range and who it's aimed at?
We've got a full range of garden hoses and accessories to suit various garden layouts, sprinklers that are designed so you can water particular areas of your garden, water meters and timers and a range of gardening products such as secateurs and weeders all made with high quality materials and customisable settings where appropriate.
In terms of testing, there are a series of scenarios that our products are put through, such as dropping them from a height, freezing them, and so on. We also test to a 10 year equivalent under a simulated Australian sun, and temperature changes from -10 to +60 degrees. Handles are tested 50,000 times and blades cut through dry hardwood 5,000 times, to ensure they will stand up to the test of time.
For those interested, the following YouTube video walks through the testing process and is quite interesting (goes for about 3 minutes) check it out:
https://www.youtube.com/watch?v=DglMI2sSuls
Any tips for managing your garden when you are short on time, on holidays, etc?
Probably the best idea is to install the GARDENA 2 hour tap timer so you can set the sprinkler and go off to work, shopping, etc and it will cut off at the appropriate time.
At the other end of the scale there are sophisticated water timers that can water different areas of your garden at different times, on different days. This takes the watering right out of the equation so you can focus on pruning, trimming and other garden tasks you need to get to.
There are a few other products that are aimed more at urban or apartment gardeners as well, which can make life easier.  We have a unique little item that is an adapter for indoor taps, so you can run a hose directly to an indoor garden to keep the pot plants happy.
Can you share any advice on how to manage your garden more efficiently?
As a consequence of GARDENA having been around since the sixties, there have been a lot of littl evolutionary improvemnts to the product range over the years that add up to a bigger collective saving of time and wasted energy.
A few examples would be the hose trolleys to keep hoses tidy  instead of laying hose on the ground – it helps when you need to move it around the garden and helps maintain the longevity of the hose. Easy access storage systems for sprinklers, spray nozzles and so on is another examp. These aren't necessarily groundbreaking but just little ideas that 50+ years of experience have taught the designers to add to the products by default.
Another example is the hose tidy; it's just a small idea but it means that the hose connectors are always on hand when you need them.
Once again, if you buy good quality products, you don't waste time upgrading or fixing things like split hoses, etc every other month as well.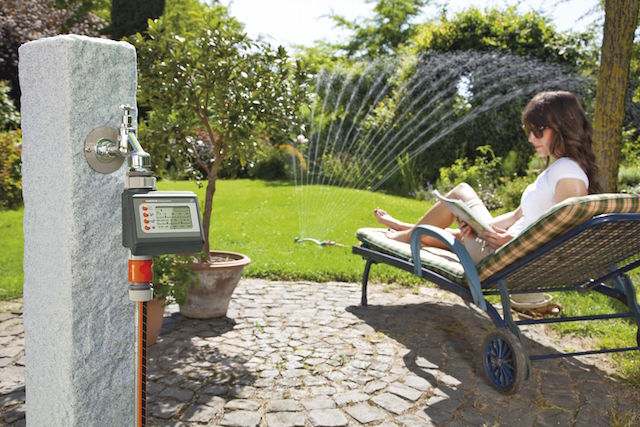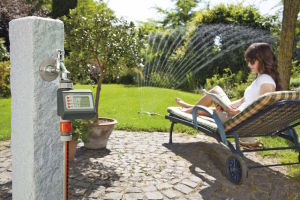 What about the rise of technology and gadgets, particularly around the home. Re there any opportunities for gardeners to take advantage of here?
GARDENA as a group is working on a smart garden system where all of the technology coming in to homes for automation can come into the GARDENA system. This will be primarily focussed around water timers, but through this process we are setting up input from younger generations into garden product design, which is exciting.
Garden design is changing with the size of the average block decreasing and house designs always changing,  so the equipment and products used need to be adapted to suit the new trends in gardening.
There are a lot more trends in the way gardens are set up – pots, bricked in raised beds and so on which is changing the way irrigation systems are designed and set up, as different zones have different watering needs.
In some areas in particular, tanks are being installed and becoming popular moreso than mains water pressure systems so we need to be sure to design products with these trends in mind as well.
Where can people go for more information, or to order GARDENA products?
There are a number of places you can go to for more information: the GARDENA Australia website, the Facebook page or our local YouTube channel.
Thanks a lot Stephen! I hope you found this interview helpful, and if you have any questions at all then leave a comment below and I'll follow up with Stephen and get back to you directly.
Cheers! Jim