Last month I featured four varieties of the Australian Native Acacia plant. This month I'll be taking a look at four varieties of native Hakea's, which are related to banksias, grevilleas, waratahs and dryandras. The first species that I am going to look at is a little special because it appears to have come into existence by accident and is a hybrid variety of Hakea.
Hakea 'Burrendong Beauty'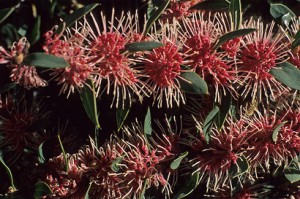 Genus: Hakea
Species: Hybrid of H.myrtoides and H.petiolaris
Common Name: 'Burrendong Beauty'
Flower Colour: Pink/red
Foliage Colour: Dark Green
Growth Habit: Shrub to 1.5m
Flowering: Winter
Burrendong Beauty is an extremely beautiful variety of Hakea. I myself have not grown it, but I have chosen to feature it first because I could not find a variety whose flowers look quite as spectacular. Very similar to Grevillea's flowers, the Burrendong Beauty has lots of little red ball like flowers with pink stamens. They flower very prolifically, so from about mid winter you can expect to see your Hakea Burrendong Beauty absolutely covered with these beautiful flowers.
Burrendong Beauty has been known to grow best in Temperate climates, though it can tolerate cooler climates as long as there is only minor front conditions. Sub tropical and tropical regions tend to be too humid for this variety to thrive in.
The best way to see this variety thrive is to plant it in a good, sunny position and make sure the soil it is planted in will drain well. In saying 'sunny position', really hot strong periods of weather will knock this variety around, so try and find a spot that has the morning sun and afternoon shade, given that afternoon sun is generally hotter than spots that get the morning sun.