Hakea Laurina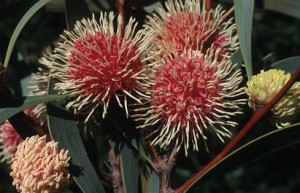 Genus: Hakea
Species: laurina
Common Name: Pin cushion Hakea or kodjet
Flower Colour: Cherry Red
Foliage Colour: Green
Growth Habit: Shrub from 2-5m
Flowering: Autumn to Winter
The Hakea laurina looks some what similar to the 'Burrendong Beauty', the main difference being that the laurina has deeper, cherry red flowers compared to the pinkish tinge to the 'Burrendong Beauty'. The laurina is also a little more specific in terms of it requirements to thrive.
The Hakea laurina is endemic to the southern coastal area's of Western Australia and tends to prefer cooler climates, though there has been some success growing this variety in slightly warmer temperate climates. This Hakea is not suitable for regions that experience high humidity.
The best place to grow the H.laurina is in a well draining soil in full sun. It will grow in part shade but this tends to limit the bushiness and flowering ability of the plant, so if this is where you choose to plant it, expect fewer flowers than would otherwise be normal.
Though the H.laurina is tolerant of frost, this can cause the plant to limit its flowering also. However, even with all these things that can limit the flowering ability, the Hakea laurina is one of the more respected varieties of Hakea for native gardens and has even been shipped off to countries around the world, such is its popularity.
Free download – Plant of the Month ebook
(Click here or click the image below to download)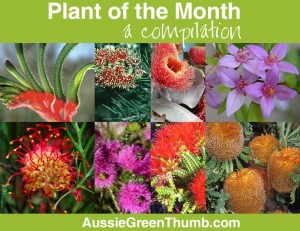 So You Want A Better Garden?
All my best articles have been collected into what I'm calling the ultimate gardening toolkit – make sure you take a look, there's a heap of great gardening advice available.
I've also published a series of gardening ebooks that you might be interested in. Good luck!