This is the third Pimelea variety review. Week 1 I reviewed the Pimelea ferruginea, last week I reviewed the Pimelea physodes. Here is this weeks instalment.
Pimelea Rosea Features
Genus: Pimelea
Species: rosea
Common Name: Rose Banjine
Flower Colour: Pink
Foliage Colour: Green
Growth Habit: Shrub to 1m
Flowering: Winter – Spring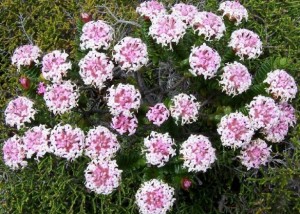 The Pimelea rosea is a lot more similar to the ferruginea than the physodes in that the flower structure is very similar. The rosea has small flowers which cluster together at the end of the stem creating a larger, more striking presentation.
The rosea's flowers are a mix of pink and white, making an almost purple colour when looking from a distance. The rosea also generally grows slightly smaller than the ferruginea.
Pimelea rosea likes a sunny to part shade position and a soil with good drainage. Like the other varieties I have reviewed it does grow best in temperate or cool climates along the coast but, again, is being mixed with other varieties to make it more hardy and tropic friendly.