So far this month I have reviewed the Pimelea ferruginea, the Pimelea physodes and the Pimelea rosea. Here is the final Pimelea variety for February.
Pimelea Spectabilis Features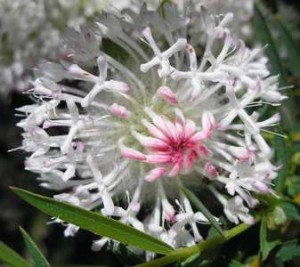 Genus: Pimelea
Species: spectabilis
Common Name: Bunjong
Flower Colour: Pink
Foliage Colour: Green
Growth Habit: Shrub to 1m
Flowering: Winter – Spring
Once again we have a variety of Pimelea that is clearly defined by its flower. The Pimelea spectabilis is quite different to the other varieties of Pimelea that I have reviewed.
The flower consists of an outer halo of mostly white flowers circling an inner white cluster with a deep pink centre. The leaves of the pimelea spectabilis are a lot more pointy and indeed prickly but this should not deter you from planting this fantastic shrub.
The pimelea spectabilis is very simlar to the other varieties in that it likes a sunny to part shade position in the garden and prefers soil with good drainage.
The Pimelea family is native to the South-West of Western Australia, my home area, but in recent years has very much been taking of Australia wide and is available from a lot more nurseries than previously.
I hope that the reviews of the Pimelea this month have at least led you to consider planting one or more of these varieties in your Australian Native Plant garden.