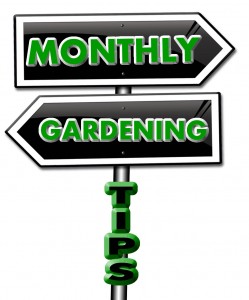 2012 is into its second month and there are vast differences around Australia at the moment. Recent floods over east make a mockery of what I would usually recommend in February, however I will continue on with general advice. Just beware: you may be having the exact opposite problems to those that I address! There is basically one word which sums up the key focus for gardening in February – Water. Whether this is because you haven't had enough of it, or you are one of the many Australians who has had too much, February is an important month to deal with water.
Water is particularly important in cold and temperate climates in February. After a long, dry summer, or even patches of hot summer in these regions, plants that have lacked a good water supply are more susceptible to disease and worse, death. In tropical climates, particularly this year, water is not the issue but water getting down into the soil may still be problematic. February can be a good time for the application of a good soil wetting agent. If you are not a fan of soil wetting agents, use a pitchfork to aerate the soil. This is something that would be useful across the board and definitely will be needed for large, grassed areas. The hot summer sun bakes the soil, causing it to form a crust which reduces the ability for water to sink in. If you are watering your plants and just watching the water run away and not penetrate, you need to either aerate the soil or apply a soil wetting agent. 'Wetta soil' is one I have used and used with great effect.
Another good tip for February is to make sure you are regularly dead heading flowers such as roses and dahlias. If you encourage your plants to continue to bud through February they will flower for longer, where as if they are able to go to seed, there is less chance of solid flowering into the autumn months.
February is a month where plants can really start to suffer from disease. Even if plants have been well watered and the water is getting into the soil, bugs are very active during summer and February can easily become a month where they take over. Check over your plants and make sure if you find leaves or flowers with disease on them, clip them off and throw them out. Don't compost these because the problem can spread to your soil through the compost. Check out your local nursery and see what plants they sell a good powder protection for. Roses are one plant that could do with a light rose powder covering to help them fight against aphids and cover tomatoes with tomato dust to ward off caterpillars.
Hopefully your summer vegetables are still growing strong but if they are looking a bit on the bad side you might like to consider starting to get your garden beds ready for the autumn vegetable crop. Remove dead veggies and compost them. Start cleaning up the garden beds, making sure they are well formed and if they are reticulated, check to see if it is still in fully functional order. More will be done here in March, these are just some early steps if your summer vegetables are finished.