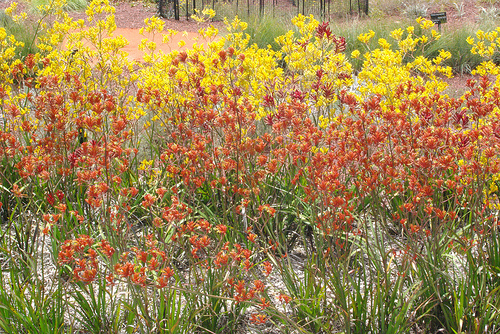 This month at AussieGreenThumb.com is 'So You Want A Better Garden?' Month. As part of that I am running a 30 day challenge. The challenge consists of daily tasks of about 10 minutes each. I guarantee that if you complete each days task, by the end of September you will be well on your way towards reaching your gardening goals and growing a better garden. Will you accept the challenge?
Day 1 Challenge Recap – How many different garden beds do you actually have? Do they all have plants in them or are some empty? Do you have any garden beds which have too many plants in with some plants overgrowing the garden bed? Take 10 minutes to take stock of your actual garden layout. This will help you prioritise which garden beds will need attention first.
Report
This morning before I came into the office I took a piece of paper and a pen and went outside to document how many garden beds I have and roughly what I have growing in each. Though I had 10 minutes allotted for today's challenge, it took me at most 5 because I live in a rental with a relatively small garden. If you have a bigger house, you'll likely have needed the full 10.
Here is the current state of my garden;
Front of house
Garden Bed 1 – Callistemon(Bottlebrush) and 2 Leptospermum. Mild weeds.
Garden Bed 2 – 2 Lemongrass plants, Rhubarb. Mild weeds.
Garden Bed 3 – Empty. Medium weeds.
Back of house
Vegetable Bed 1 – Celery. No weeds.
Vegetable Bed 2 – Snow peas, carrot seedlings. No weeds.
Vegetable Bed 3 – Climbing beans, broccoli. No weeds.
Vegetable Bed 4 – Dwarf beans, cauliflower. No weeds.
Herb Garden – Mostly empty. Some old parsley. One lemon grass plant. Rosemary. Heavy weeds.
The reason I set this challenge
Over the years I have been surprised by how many people just don't know how many garden beds they have and what they have growing in them (or if anything is growing in them). Now of course, many of you may not actually know what your plants are and that is fine. Simply knowing where you have plants is helpful!
The main reason for this stocktake is it will help you work out what you need to do first. For me I was surprised to note just how much the weeds in my front garden stood out. Though they are relatively small in number, they actually really stand out. This is not necessarily a good look for a gardener 😀 .
When you have it clear in your mind what is actually going on it can help you feel less daunted. Ok, so if your garden is weed infested you may in fact feel more daunted, but you also better know your garden now. This will help you as the next few steps unfold. This will help you towards growing a better garden.
Learn more about Garden Design
This challenge fits under the category of 'Understanding garden design'. Most people think of garden design as;
Something landscapers do;
Difficult to learn and understand;
Not for the beginner;
This is not true. Though I wouldn't expect you to get out and design flowing gardens, simply understanding your own garden is a step towards better understanding garden design. If you want to know more about beginner level garden design, the first chapter in my ebook covers it. Find out how you can buy my ebook 'So You Want A Better Garden' here.
It's not too late to join the challenge! You can grow a better garden. Start today! The great thing about this challenge is it can run over any 30 day period. Just check out days 1-5 and start from today.