Hi there, thanks for checking out Aussie Green Thumb, I appreciate it. If you want more, click here for all my best advice, exclusive content and FREE bonuses!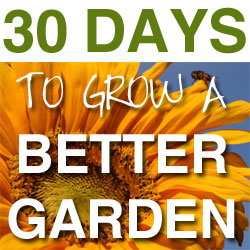 This  September at AussieGreenThumb.com is 'So You Want A Better Garden?' month. This month I will be focusing on helping you step forward to meet your gardening goals. I realise though that for many people the task of improving your garden seems monumental.
Hopefully you have kept up with the simple challenges so far. My goal is that each challenge will take no more than 10 minutes per day.
Here are the next 5 tips!
Days 6 to 10 – Understanding Your Climate
6. Do you live in a cold, temperate or tropical climate? Spend 10 minutes online researching where you live (if you don't know the climate) and what impact that has on gardening in your zone. Climate has a huge impact on gardening. You might choose a plant that looks great but will really struggle in your area. Knowing what you will experience climate wise will help you make a wise choice.
7. What season is your climate zone in? Summer, Autumn, Winter or Spring? Research what that means for your zone. Different climates have different seasons and experience different things. For example, a temperate climate experiences a dry Dec-Feb in Australia where as a tropical climate generally experiences their wet season then in Australia! This will impact on your garden.
8. If you are towards the beginning of one of the seasons why not fertilise your garden? This task will take longer than 10 minutes if you do not have fertiliser at home so perhaps get it the day before on the way home from work. Buy a good slow release fertiliser and then take 10 minutes applying it, following the dose described on the container. For most garden beds an all purpose fertiliser will be fine. If you have native plants, use a native plant specific fertiliser.
9. Spend 10 minutes removing any dead flowers on your plants. This is particularly important with plants that flower in the hot months of your climate. Removing spent flowers encourages them to continue to grow and perhaps even flower again sooner because plants want to produce seeds. Removing spent flowers means they need to flower again to achieve this. It also takes a lot of energy from a plant to produce seeds, removing the spent flowers means this energy is spent on growing and flowering.
10. Spend 10 minutes weeding your garden. Depending on the season, your garden may have lots of weeds or very few. As the seasons change take note of when weeds tend to pop up more and less. If you know a high weed season is coming you may want to make sure you have plenty of mulch to minimise them. If you know a low season if weeds is coming, you might feel more encouraged to pull them out when you see them because you know that will really make it difficult for weeds to grow.
Stay tuned for the next 5 tips which will all be to do with Understanding Your Soil.
For all the '30 days to grow a better garden' series, follow these links:
30 days to grow a better garden: part 1
30 days to grow a better garden: part 2
30 days to grow a better garden: part 3
30 days to grow a better garden: part 4
30 days to grow a better garden: part 5
30 days to grow a better garden: part 6
Intrigued to know more about how climate will affect your garden? Chapter 2 in my ebook delves into the topic of climate a little deeper in a way specifically designed to help beginner and intermediate gardeners understand more about their climate.
You will learn about;
1. How a temperate climate affects your garden;
2. How a cold climate affects your garden;
3. How a tropical climate affects your garden.
So You Want A Better Garden?
Click here to read more about what my ebooks have to offer you, or to buy and help support this website (thank you so much).
All my best articles have been collected into what I'm calling the ultimate gardening toolkit – make sure you take a look, there's a heap of great gardening advice available.